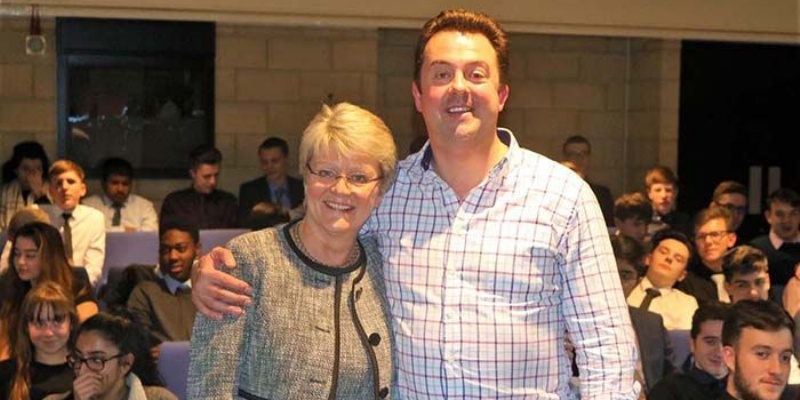 Local entrepreneur and former Brooke Weston Academy student Tom Warner talked to our Sixth Formers about his world-beating gin business.
Tom, who founded the Warner-Edwards brand with a business partner nearly five years ago, has won multiple awards including the highest accolade, double gold, for Harrington and Sloe gins at the San Francisco World Spirits competition. The company's gins are regularly best sellers in leading retailers and, from modest beginnings, it now employs 26 people, with a further nine jobs in the pipeline.
He has fond memories of when he joined the first cohort of students at Brooke Weston: 'It was this brave new world, a brand new school and we were sold on the technology available. It was awesome. We were guinea pigs. Every student had an Apple Mac computer, we had an air sprung basketball court and in the CDT area you could forge steel so it was epic! It was a bit like the Wild West – brand new students and brand new teachers and I thoroughly enjoyed it. It made me more streetwise and the focus on tech that we got in this school compared to others was state of the art.'
He went on to agricultural college (with the co-founder of the company, Sean Edwards), then worked as a commercial manager in the produce industry before realising he wanted his own business: 'I wanted to be an entrepreneur and the master of my own destiny. We spent six months researching lots of different industries to see what we could do.'
Tom decided that gin was the best option as it gave him a chance to diversify the family farm at Harrington, and so Warner-Edwards was born. He spoke about the company's rapid growth, innovative product development that has led to its five distinct gins, and the need for resilience, flexibility and self-belief when building a successful business. He pinpointed that the company's success is down to passion for its products, as well as the provenance of ingredients, which means that local spring water and home grown botanicals and honey are used in the manufacturing. The lynchpin of the business is 'Curiosity' a handmade copper still that was the first to be imported into the UK from Arnold Holstein of Germany. It gives the gin a smooth finish and the brand a unique selling point.
Tom said: 'Life doesn't owe you anything and when you are starting a business you have really got to invest in terms of time, passion, energy and sacrifice. We developed our recipe around the kitchen table in summer 2012. The biggest gin blogger in the world, David T Smith, voted our gin the second best in the world when we were three weeks old! We entered the two biggest competitions in the world with our dry gin and got a silver medal in each of those in our first year. We made our luck by using the best process, kit and ingredients.
'In the first six months we sold 2,000 bottles then in the second six months it exploded so we sold 12,500 bottles in our first year. In our second year we doubled our business, in our third year we doubled our business. In our fourth year we nearly tripled our business and this year we are quadrupling, so as we get older the rate of growth gets bigger which is really exciting.
'What really accelerated the business for us was innovation. In its second year our dry gin had top prize, double gold, in the biggest spirits competition in the world. It is credibly one of the best gins on the planet however in a market dominated by London dry gin it is not really differentiated enough so we started launching other products.'
The company has expanded to produce elderflower, sloe, Melissa and, most recently, Honeybee Gin, which is sold in conjunction with the Royal Horticultural Society. All are immensely popular, with the sloe also winning the coveted double gold, but it is the Victoria's Rhubarb that is the 'monster' seller with fruit sourced from a crop originally grown in Buckingham Palace's kitchen garden in Queen Victoria's reign. Although it is the hardest to make it also is the fastest selling gin in M&S.
Tom told the students: 'We are five years old on 6 December and we have had a huge journey. At the moment there's 75 to 100 people starting craft distilleries in the UK each year, so at five years old we are regarded as the old boys in the industry. I launched this business when I was 34. One of my biggest regrets is I didn't do it earlier but I was having fun and getting experience in a job. For me this is about keeping the family farm going and doing something different. Don't get over distracted by your competitors, just keep focused on your message and business. If your business is working and people like it then stay true to that. It is one of the most exciting things you can do.
'Success is basically a long thread of failures, so when you see someone who is really successful they made mistake after mistake, disaster, trauma and it is about having resilience. Resilience is a muscle that you strengthen throughout your life and we developed resilience through some very, very dark days. It is the people who aren't the resilient ones who will throw in the towel.
'There has never been a better time to start a business than right now. I have been really lucky to get where I am. Life doesn't guarantee you anything and time is a finite resource. The sooner you can start towards your own goal the better. Start building the skills you need. As you get older you get poorer and poorer in terms of time and the options available to you. You may end up working in industries that aren't even invented yet.
Afterwards, his former PE teacher, now Trust Director of Education, Trish Stringer told him: 'I couldn't be more proud of you, having that resilience and persistence to keep getting up every time you are knocked down. It's about never, ever losing the dream, always knowing where you want to go and not letting anybody tell you that you can't do it.'