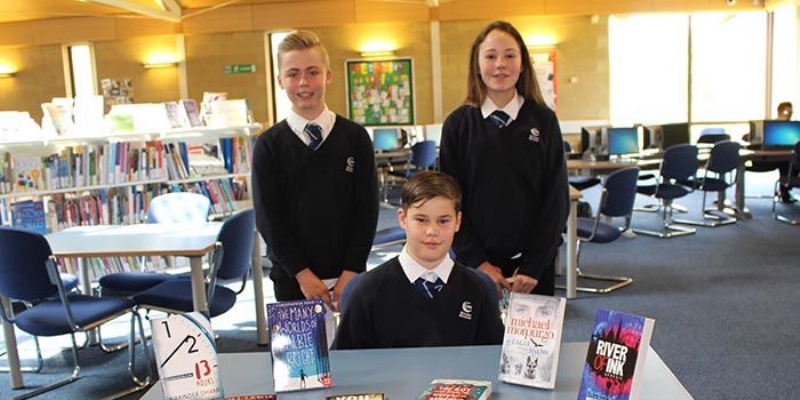 Congratulations to Year 7 students Matthew Russell, Anna Bredenkamp and Finlay Short who won prizes for their written book reviews on titles they chose from the Bookbuzz programme at Christmas.
Students received a free book from the Library as part of the Bookbuzz programme and were invited to write a book review to be in with the chance of winning the entire Bookbuzz collection.
There were over 50 entries in the completion, Librarian Wendy McCabe who judged it said 'The reviews were of such good quality that I picked a winner and two runners up as I was so impressed with the detail, vocabulary and enthusiasm that they used in their reviews, it was obvious that they had really enjoyed their books. All of the entries had worked to develop their writing and structure, which will help them in the future with their school work. It is fantastic that they had their own opinions on the books and were able to express them.'
Bookbuzz is a reading programme from Book Trust, which supports schools to encourage reading for pleasure and develop a whole school reading culture. There were 12 in the collection all selected by a panel of experts, including teachers and librarians and designed to appeal to all students, regardless of their reading level. Titles available this year included Eagle in the Snow by former Children's Laurete Michael Morpurgo, Costa Book Award winner The Lie Tree by Frances Hardinge and I am Malala by Malala Yousafzai, the youngest ever Nobel Prize laureate. The most popular book this year was 13 Hours a mystery thriller from author Narinder Dhami.
The winner of the competition Matthew, wrote his review on 'Arrow Head' by Ruth Eastham he said 'I really enjoyed my book so I wanted to write a review. I'm very excited that I have won the entire Bookbuzz collection and can't wait to read '13 Hours' as I have heard it is very good.'
Anna said ' I wanted to write the review as I felt that it was a good opportunity to explain how much I have enjoyed my book instead of just keeping that inside.'
Finlay said 'I enjoyed writing the review and felt like it was a really good opportunity to express myself'.
All this year's Bookbuzz titles are available to borrow from the Library.