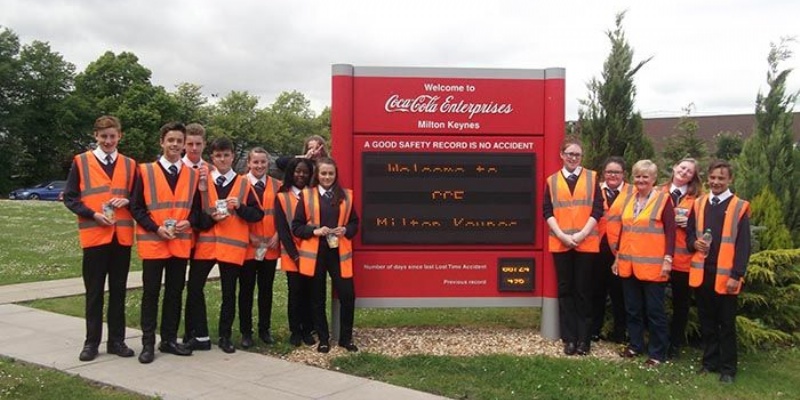 A group of students in Year 9 were invited to tour a Coca Cola factory in Milton Keynes as part of their Food Technology studies. The site is one of six education centres in the UK where students received a glimpse into the practical world of work and a behind-the scenes learning experience.
The two hour visit is curriculum-linked and gives young people the chance to see inside a state-of-the-art manufacturing site and to develop their knowledge of the world of work making connections between what they learn in the classroom and the operations that are integral to one of the world's leading brands.
Students learnt about the history of Coca Cola and the marketing and packaging of the product. They also received a guided tour of the factory where they got to see the high speed production lines in action and learnt about how the drink is made and packaged from start to finish. The afternoon involved the students working in groups to design a brand new drink, helping them understand further what is involved during a new product launch.
Food Technology teacher Mrs Wendy Wykes said 'This is the third group of students I have taken on this trip which is always really popular as they benefit a great deal from seeing a real working food environment. The factory is heavily automated and computer controlled and so requires very few workers, which surprised the students and helped them understand why it is important to be careful about food safety when producing any food products. They also found out that food engineers are in very high demand and that this is another career path available to them that they may not have considered.'