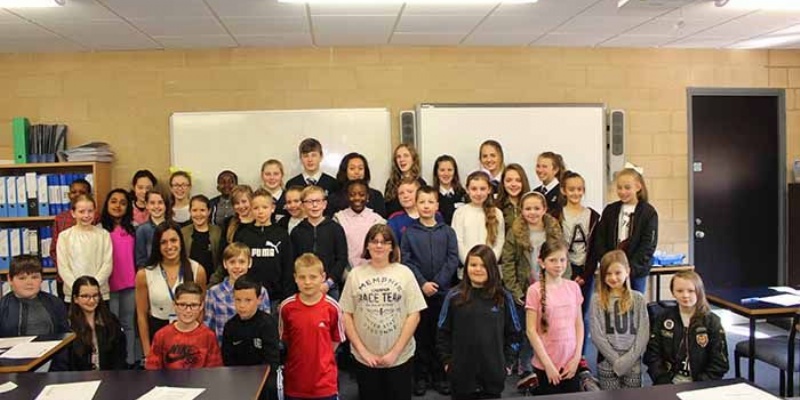 Brooke Weston have been working together with the Trust Primary schools to offer maths booster lessons for Year 6 students so that they can continue their learning and development over the Easter holidays in preparation for their SATs in May.
More than 30 students from Oakley Vale and Beanfield Primary schools signed up for the two hour lessons which are taking place once a week during the Easter holidays.
Students from Year 9 assisted in the teaching of the lessons and were trained on how to question and teach a class of students. Year 9 student Hania Mazur said 'I wanted to help today not only to improve my skills in maths but also to help the Year 6's and encourage them to see that maths isn't boring and that at Brooke Weston we make it a lot more fun and interesting, as well as helping them to strive to be greater than they already are. I think it's a fantastic way for them to improve and for me to help them.
'For me it helps with my learning and leadership skills and how to talk in front of others as that isn't something I've been able to do in the past but this has really helped me and been an enjoyable experience.'
The first booster session focused on fractions and saw the Year 9's teaching students in groups of 8-10 and letting them practice repeatedly until they were happy and could move on, they were then divided into groups of two and were against the clock in a maths relay where they worked to get as many fraction questions right in the time given. Head of Key Stage 3 maths at Brooke Weston Ms Roisin Fernando said 'These sessions are really important as we didn't want the Year 6's to have two weeks away from learning in the run up to the SATs. With only four weeks to go until the tests start it is really easy for them to forget what they have learnt over the break. Just attending these sessions once a week and practicing the basic skills will help them with retention. It also gets them excited about going to secondary school in September, especially the ones that will be coming to Brooke Weston.
'The day has also been fantastic in helping the Year 9 students' understanding of maths and developing their own reasoning and explanation. It forges relationships with younger students and makes them feel that they can approach older students around the academy when they join. I've also found that sometimes the older students can explain things a lot better to the younger ones and it helps them understand faster.'
Ms Fernando has been helping with maths within the Trust Primary schools and from September will be spending one day a week at both Oakley Vale and Beanfield to assist in the development of primary school students across the Trust and prepare them for their SATs and starting secondary school, a role that she is eager to start after the success of the booster sessions. She said 'I am really enjoying working with the Year 6's and feel like I am helping to make a difference to the students. It's useful for me as I am experienced in teaching ways that haven't been seen in the schools and vice versa with some methods that the teachers in primary use, helping us to share best practice. We work together and come up with better ways of teaching.
'The lessons in school and this first booster session have been amazing, both the Year 9's and Year 6's have really enjoyed it and have learnt a great deal in such a short amount of time.'
Rhiannon Ruthven from Beanfield said 'Today has been lots of fun. The lessons boost your learning and give you an idea of what secondary school will be like. We have our SATs in a few weeks time and I didn't want to forget everything that I have learnt so I wanted to come in during my holidays.'
James Hughes from Oakley Vale said 'I enjoy doing maths and as well as that these lessons really help me with my SATs as it is extra revision. Today has been fun as we have been going over parts that we find more difficult and we are going through them to make sure we understand. I have really enjoyed the day.'
Executive Principal Trish Stringer said 'I am incredibly proud of all of Year 6's that have given up their time during the holidays to focus on their development and the Year 9 students that have volunteered to help them. It is a fantastic example of the excellent attitudes and commitment that each and every one of the teachers and students have across the Trust and of what we can achieve when we work together. The work that Roisin has been doing in the Trust schools has made an incredible difference to both the teachers and the students and the success of this has meant that from September we will be increasing her time within the schools to ensure that we develop all of our students within the Trust to the maximum of their abilities.'