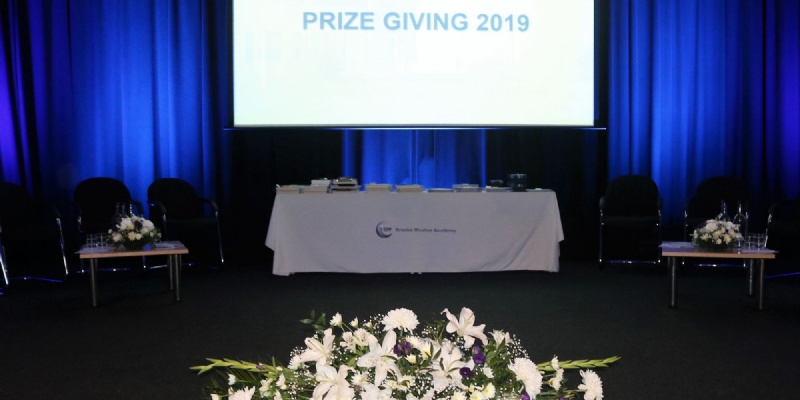 The achievements of hundreds of Brooke Weston Academy students were celebrated at the Academy's Prize Giving 2019 where author, broadcaster and priest Joanna Jepson gave an inspirational speech.
The evening started with a welcome by Principal Pete Kirkbride before the audience saw a Review of the Year film, showcasing a few of the many activities and achievements at the school.
Head Boy Sharon Sajan and Head Girl Madysun Buchanan spoke about how Brooke Weston Academy has impacted them both personally and academically, offering support in many areas. Joanna Jepson told the audience about her challenging experiences at school and how she had to overcome adversity with an operation to realign her jawbones. She spoke about her calling to become a chaplain, serving both the British fashion industry and the Army. Her inspirational message told students to believe in themselves, find their passion and follow their own unique path in life.
Awards were presented to students who had excelled in individual subject areas before Morgan Haines, Scarlet Dawson and Charlotte Fletcher read extracts of their work from 'The Gathering', a soon-to-be published anthology of the best of BWA students' writing.
Business Student of the Year was presented to Oliver Steel before 20 students who performed exceptionally in this year's GCSE awards received their prizes. This was followed by the Year 13 A Level awards where our top 20 achievers were also recognised.
Brooke Weston Trust's Secondary Executive Principal, Anne Hill said: 'Brooke Weston Academy is not only an outstanding school, it is an exceptional school. Its history, its sustained outstanding status and the experience that its students have when they come to Brooke Weston Academy make this school truly exceptional …. I see polite, well-mannered happy students and truly respectful relationships between staff and students. I see students who apply themselves to their studies. Tonight we are celebrating with them. Well done.'
The audience saw the first showing of 'More Than an Education' a specially commissioned film where students and staff speak about what makes Brooke Weston Academy such a special place to work and study.
Students were awarded distinctive Sports Colour ties in recognition of their prowess in many disciplines. Outstanding Student of the Year Awards went to Jackson Chen (Y7), Marcus Ciobanu (Y8), Nicola Edge (Y9), Daniel Nicholson (Y10) and Rajan Khunti (Y12).
Sam Davies was named in absentia as recipient of The Principal's Award while Amelia Sulch received the Outstanding GCSE Student Award. The Hugh de Capell Brooke Award was presented to high performing A Level student Levia Yee by Mrs Wendy de Capell Brooke.
Thank you to everyone who attended, including the de Capell Brooke family, parents and carers, governors and the Mayor and Mayoress of Corby. Thanks also to everyone who worked hard on the organisation, catering and audio-visual services to make the night such a success.
A full account of Joanna Jepson's talk will be posted soon.
To view more photographs from the night click here: