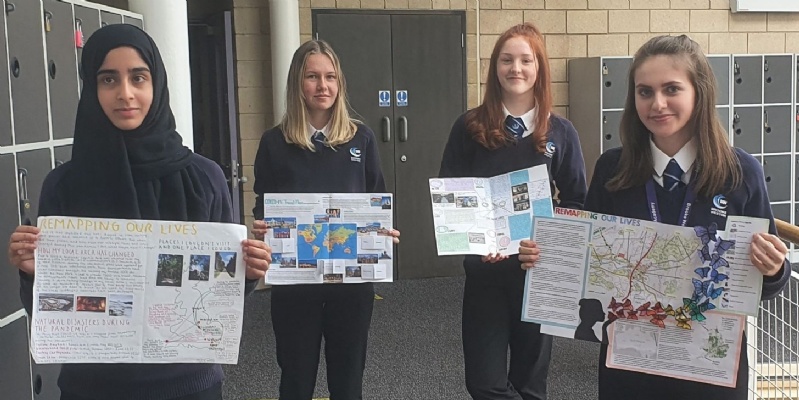 Ten students from Brooke Weston Academy, who entered this year's Royal Geographical Society's Young Geographer of the Year competition, have been chosen by their teachers to have their entries submitted for the national competition.
The Young Geographer of the Year, is the Society's annual competition which recognises the outstanding work of the next generation of geographers. With its age ranges spanning the primary years to A Level, the competition encourages thoughtful and creative answers to the competitions theme which is set each year.
This year, the theme was 'Remapping Our Lives' and students were asked to create an annotated map which reveals how their lives have been shaped by the Covid pandemic. This involved thinking about how local places may have changed, as well as the places students could and couldn't visit. Students needed to show a good use of accurate geographical terminology, clearly labelled and appropriately acknowledged sources, including diagrams, charts, maps or images with accurate use of symbols, scales and keys.
Juliette Smith, Head of Geography at Brooke Weston Academy said, 'Geographers were required to create an A3 page of work centring around one map with at least six annotations. This could have been an OS map, proportional symbol map, choropleth map or flow line map, so seeing the different use of maps and students showing off their cartographical skills was just brilliant. To judge the competition we enlisted the help of teaching staff Ms Northern, Mr Glesinger and Mr Houghton. There were such incredible entries exploring the Geography of the past year including the Black Lives Matter movement, local wildlife and even football. It was very difficult to choose just ten entries to put forward for the national competition, although, everyone who produced a piece of work that met the rigorous entry criteria, has been awarded a certificate of commendation.'
Year 10 student Zahra Khan, who won the KS3 Young Geographer of the Year 2020, said, 'This year my entry was all about a new place I visited with my family and also about natural disasters that have occurred during the pandemic'
Year 10 students Lois Hall, Ruby Gardiner, Emilia Wright and Alice Davies, all impressed the judges with their annotated maps and were four of the ten students selected to have their entries forwarded to the national competition. Lois based her entry around a TV travel documentary series called Travel Man, and the impacts of the pandemic, while Ruby's map was based on the global socioeconomic and environmental impacts of the pandemic with Emilia choosing to focus on how the pandemic has impacted her family and the places they visit.
Other students who were successful in having their entries submitted to the national competition were, Year 9 students Michelle Mwarewangepo and Lily Tomkins, Year 8 students Lily Edwards and Lily Cockburn, and Year 7 students Goda Kesminaite and Evie Dowsett.