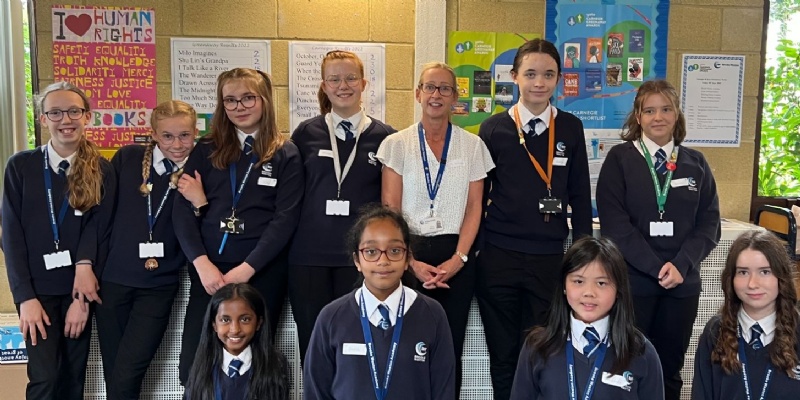 Brooke Weston Academy was delighted to host this year's Carnegie and Greenaway shadowing event, which 50 students and staff from the BW Trust schools attended.
It was a chance for keen readers from Brooke Weston Academy; Corby Business Academy; Corby Technical School; Kettering Science Academy; Thomas Clarkson Academy and Beanfield Primary School to meet to discuss their favourite books shortlisted for this year's Yoto Carnegie and Kate Greenaway awards.
The Awards celebrate outstanding achievement in children's writing and illustration respectively and are unique in being judged by children's and youth librarians. Often described by authors and illustrators as 'the one they want to win' - they are the gold standard in children's literature. Eight books have been shortlisted in each category and over the past few months students have been reading and assessing them. Six of the eight Carnegie shortlisted books are based on real-world events – from Tacky's War to WWII; the legacy of the Troubles to the refugee crisis; the 2011 Japanese tsunami to the Central Park Exonerated Five case – with many demonstrating the power of friendship to help young people overcome challenges and celebrate difference.
As well as discussing the books, students also took part in a quiz answering questions about the Carnegie and Greenaway titles, with Corby Technical School students winning all three of the top quiz prizes. Students also had the opportunity to lobby for votes during a 'book push' when they talked about the different features of their favourite books with Brooke Weston Academy Year 8 student Phoebe Martin winning a prize for best 'book pusher' as she presented the most convincing argument as to why her favourite Carnegie title 'The Crossing' by Manjeet Mann should win the Carnegie Medal.
The event ended with a vote for the favourite book in each category with the most popular Greenaway title being 'I Talk Like a River' illustrated by Sydney Smith, while 'The Crossing' was the winning Carnegie title.
Brooke Weston Academy Librarian Wendy McCabe who organised the event said, 'The Carnegie and Greenaway book shadowing scheme is regarded as one of the main annual national reading for pleasure initiatives. The event was a great success and by shadowing the awards the students feel like they are part of the judging process. It's always interesting to see if our favourites match up with the official winners of the awards which are announced on Thursday 16th June. Thank you to everyone who took part and to our student helpers who assisted on the day'
To find out more about the awards: https://carnegiegreenaway.org.uk/
To view the book reviews that our Brooke Weston Book Busters reading group have written: https://carnegiegreenaway.org.uk/reading-group/brooke-weston-book-busters/