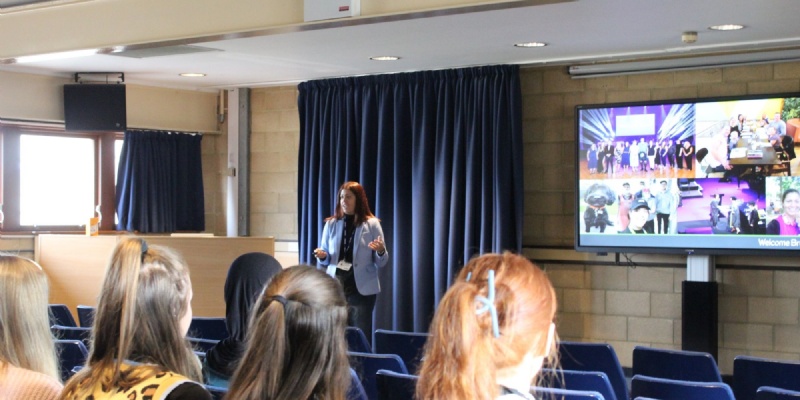 Year 12 students are inspired by careers advice
Brooke Weston Academy welcomed Nicola Marshall, People Director for Welcome Break, who spoke to our Year 12 students about her career journey as part of the 'Speakers for Schools' (S4S) programme.
S4S talks are inspirational events that allow speakers to share their unique insights and advice with students as someone leading in their industry or discipline, to help broaden horizons and encourage students in their potential. They are also a chance for a real conversation with figures who are shaping the world today – ranging from real stories of how a speaker got to where they are, to how their industry is changing society, as we know it.
Nicola provided an overview of her own career journey from A' Levels through to her current position with Welcome Break managing an annual budget of millions. Nicola also explored alternative routes in to HR including apprenticeships.
She said, 'Having joined hospitality at a young age, I found a love for people businesses. Working in operations gave me the skills to manage teams of all sizes and ages as well as learning to run an operation. Having gone to university and undertaken a business degree, on graduating I joined a graduate development programme and quickly progressed. I then took an opportunity to move into recruitment, and then sideways into HR and have never looked back.
In 2009 my daughter was born and when she was three years old, I took the opportunity to return to my studies and complete my PGDIP in Human Resource Management, whilst maintaining my career and developing myself for my future. I have now been the People Director for Welcome Break for just over three years.
I have a passion for supporting people in their development and career progression and seeing their own talents. I am passionate about setting young adults up for success in the workplace as they transition from education to the workplace.'