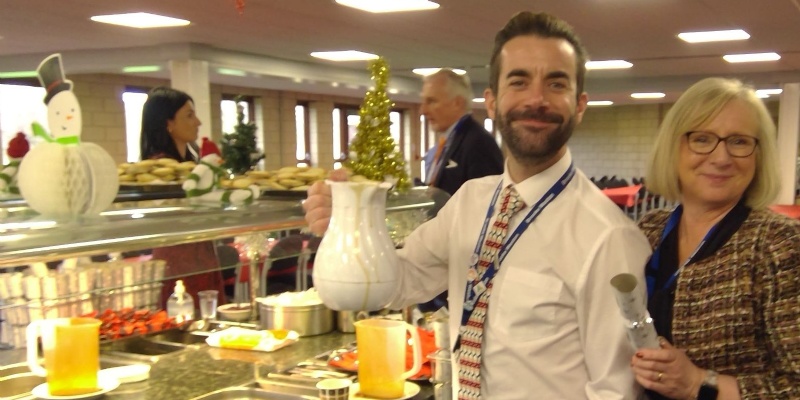 Festive activities take place in the last week of term
Staff and students at Brooke Weston Academy have been getting into the festive spirit with a number of Christmas themed activities taking place.
The senior leadership team have been busy assisting the restaurant staff to serve Christmas dinners to students and staff, dishing out hundreds of plates of the festive fare over two days. Brooke Weston Christmas dinners are an integral part of the celebrations each year and the restaurant staff always make every effort to impress to decorate the restaurant and produce high quality food.
Our Sixth Form student leaders organised a successful Winter Fair with students able to purchase sweets and treats as well as taking part in a 'beanbag tossing' competition. There was also fun to be had matching baby photos to members of staff, with all proceeds from the Winter Fair being donated to the Corby Foodbank.
As part of our Christmas celebrations a Christmas Jumper Day was held on the last day of term and staff and students were asked to bring donations of non-perishable food, toiletries and household essentials for the Corby Food bank, with the items being given to families in need over the festive period. We are incredibly proud of the generosity staff and families have shown, and this year, more than ever, the need is high. Thank you to everyone who contributed to this worthy cause.
For information about the Corby Foodbank and how to access its services click here
We wish you all a safe and well deserved Christmas break and look forward to welcoming all students back in the New Year.