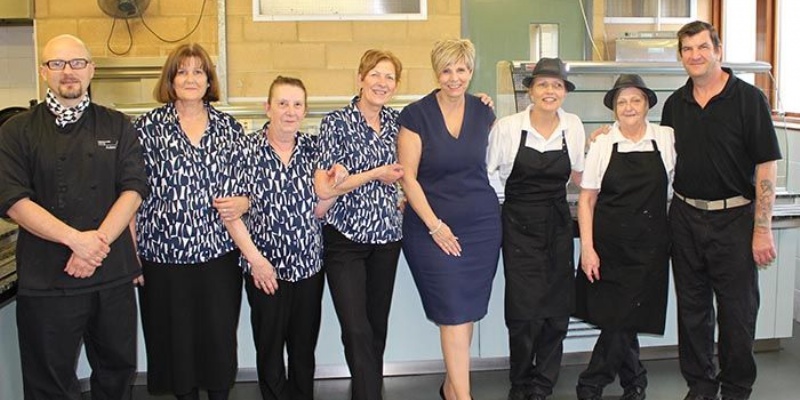 Brooke Weston's restaurant manager, Christine Gray, is retiring after 25 years in the role, having worked with thousands of our students over the years.
Christine started working at Brooke Weston as a general assistant in the restaurant and has seen a lot of changes in the school. 'When I first began working here 25 years ago there were only 350 students, since then the restaurant has been extended, the library has been built and we have had a brand new extention for performing arts.
'Brooke Weston has been really good to me during my time here. I left school when I was 15 and since working here I have completed my Level 3 NVQ management course and learnt how to use a computer, which terrified me at first! My role here is slightly different to other catering managers within the trust I do all the finance myself, which includes bacs runs, ensuring suppliers get paid, and reconciling the students lunch money. I used to do it all in books but now it's done on the computer. I have a fabulous team of 18 who have all worked with me a long time, some of them 15-20 years and I will miss them all so much.
'Some of my fondest memories from Brooke Weston are the events that we used to hold here. The entire restaurant would be cleared and transformed into a top class hotel. We used to have a marquee in the Weston Theatre or in the quad and the whole place looked amazing. They were fabulous!
'I never dreamt when I started working here that I would still be here 25 years later but Brooke Weston is a special place to work and I have always loved working here. The people make it special. All of the teachers want to make a difference and never give up on a student, always sticking by them and bringing out the best in them and that rubs off on the rest of the staff. Visitors that come into the restaurant always comment how beautiful the school is and how lovely the restaurant is. We have never had any trouble in the restaurant because I think the students respect the catering staff and the environment that they are in.'
Christine works daily in the restaurant from 07:00 – 16:30 and has seen thousands of students on their journey through Brooke Weston including her own children. 'My son met his wife during his time at Brooke Weston so we have the school to thank for our grandchildren! I have seen so many students grow up here. I may not always remember their names but I never forget a face and it is so lovely when they return here years later training within the teaching school, or as a teacher, I always remember them.
'Working at Brooke Weston has taught me to be more tolerant; I am a far different person now to when I first joined. I've seen how individual students can be and how even the worst behaved child can be encouraged to be different, to learn and make the best of themselves.'
Christine isn't retiring completely and plans to work for her husband's electronic company in Rugby three days a week and have some well deserved 'me' time the other two. 'I will be doing all of the buying for the company and general office work. Our daughter already works there so it will be really nice to work as a family. I'm looking forward to the new challenge. It will be very surreal to think that I will walk out of here at the end of the week and that will be it. I will be very sad to leave all of the students and staff and the memories I have created at Brooke Weston and I will miss everyone dearly but I will also feel excited about the new chapter in my life that I am about to begin.'