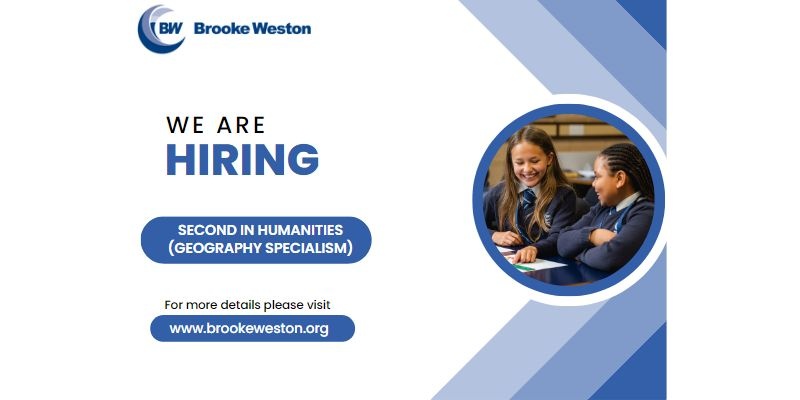 Salary: MPS/UPS & TLR 2A
Start Date: ASAP
Our students come from all walks of life, and we want our staffing body to be reflective of the communities we work within. Brooke Weston Trust does not discriminate on the basis of race, religion, sex, sexual orientation, gender identity or expression, nationality, culture, age, disability, marital status or socio-economic backgrounds. We encourage and welcome applications from minority groups and foster a work environment that's inclusive as well as diverse, where people can be themselves.
About the Second in Humanities role
We are seeking to appoint a motivated experienced Teacher of Humanities (with a Geography specialism) to join our team as a Second in Humanities.
The second in faculty for Humanities will provide, and support the HoD in providing, professional leadership and management of their curriculum area(s) in order to secure excellent standards of teaching, learning and achievement. They will be committed to ensuring a climate of high expectations resulting in positive attitudes and high levels of motivation amongst staff and students.
Some of the additional roles the successful candidate will undertake/ be responsible for includes (but is not limited to):
Managerial Role
Lead the Humanities faculty in the absence of the Head of Humanities.
Lead, manage and develop relevant curriculum area(s) in the department as determined by the HoD.
Monitor the quality of teaching and learning and be accountable for the academic progress of students.
Evaluate relevant assessment data and subsequent identification of area for development.
Draft and create, with the HoD, the annual Faculty Improvement Plan in line with Academy School Improvement Plan.
Learning and Teaching role
Demonstrate exemplary classroom practice modelling effective strategies with staff in order to develop them.
Provide a range of academic routes for students at Key Stage 3, 4 and 5.
Support the HoD and Subject Leads with the design/sequencing, resourcing and implementation of Humanities subject curriculums
Support the HoD and Subject Leads with the assessment of Humanities subject curriculums
As a member of our staff, we can offer you the following:
Promotional prospects within the school.
Opportunities for continued professional development and access to the BWT Teaching School & Ambition hub
The support of a cohesive and committed team of teachers who work collaboratively to maintain high standards and expectations
A daily allowance entitling you to a freshly prepared hot or cold breakfast and lunch
Access to salary sacrifice schemes such as Bike2Work
About Brooke Weston Academy
Brooke Weston Academy is unusual, and exceptional. We are an innovative and ambitious 11-18 secondary Academy set in the heart of Corby, Northamptonshire. We are committed to supporting and challenging our students to reach their full potential, inside and outside of the classroom. Our school was founded over 25 years ago in order to transform the education of young people in the community, and we have.
Yes, we are outstanding, driven by the needs of our students and our core values. We are never complacent and always restless to improve. We are proud to be a high performing state comprehensive with a traditional curriculum but one which also highly values the arts, drama, sport and dance. The success of this vision led to the creation of the Brooke Weston Trust and the Northamptonshire Teaching School Hub with a mission to 'go to the most difficult places and do good'
About Brooke Weston Trust
Our Trust was formed more than 25 years ago with a simple and clear mission – to transform educational performance in all of our communities. Working in some of the most challenging contexts, we improve our students' achievements by making long term commitments to the community and championing new approaches to improve the life chances for young people.
Our members of staff are essential to realising this vision, and a happy, motivated and supported team will deliver the best possible experiences for our young people.
We place great emphasis on creating a supportive and collaborative working environment in all our schools, where all staff can share best practice through our colleague networks. Brooke Weston staff get access to first class professional development through our Ambition Hub, which is also home to the Northamptonshire Teaching School.
To find out more about working for our Trust and the benefits available to staff please check out the BWT Join Us Guide.
How to Apply
If you think you can contribute in this role and to our organisation we welcome your application!
Further details about the Academy, the above position and details of how to apply can be found on our website www.brookeweston.org or by telephoning 01536 396 366.
Applications may be submitted in writing addressed to the Principal or electronically to applications@brookeweston.org
Safer Recruitment
Care and respect for others are the values that lie at the heart of our Trust. The Trust is an Equal Opportunities employer and is committed to safeguarding and promoting the welfare of young people. It expects all staff to share this commitment. All posts require proof of identity and as the role is working with children and young people this will also be subject to an enhanced disclosures barring service check. In line with safer recruitment requirements, individuals shortlisted for a role in school will have online checks conducted on their name across social media platforms and google.
A copy of the Trust Safeguarding and Child Protection Policy can be found here - Safeguarding and Child Protection
The Trusts position on the recruitment of Ex-Offenders can be found under section 7 of the Trust SCR, Safer Recruitment and Staff Files Policy - Safer Recruitment and Staff Files Policy
Closing date: Wednesday 1st February 2023
Interview date: To be confirmed
The post is exempt from the Rehabilitation of Offenders Act 1974 and the amendments to the Exceptions Order 1975, 2013 and 2020.