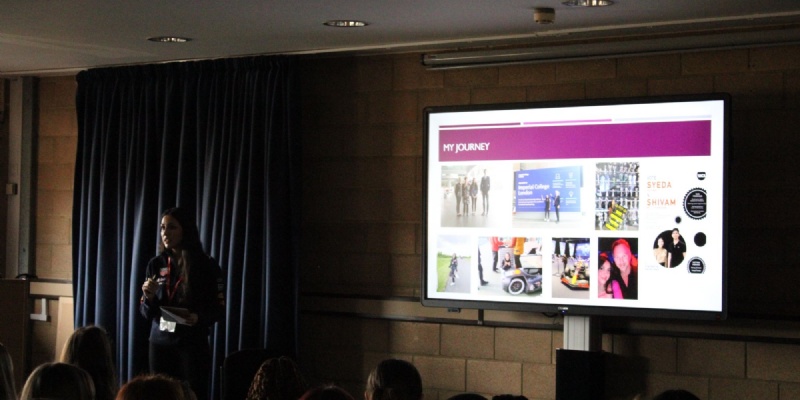 Guest speaker from Red Bull Powertrains inspires students to consider a career in engineering
Brooke Weston Academy was delighted to welcome Syeda Fatima, Mechanical Design Engineering student at Red Bull Powertrains (RBPT), to speak to almost one hundred of our female students in Year 7-13 about her journey so far and possible options for a career in engineering.
Syeda is currently on a placement year at RBPT, after having completed two years at UCL where she will return to complete her degree in Mechanical Engineering, with the hope of eventually finding permanent employment with RBPT.
She said, 'I have had two roles at RBPT, my initial role was Mechanical Design Engineer (student) of the Internal Combustion Engine. This mainly involved working with CAD and scheming up 3D models, doing engineering drawings and stress analysis on the parts that needed it. My current role is Materials Engineering (student). This role is really varied, and I get to work on a number of things. My day to day includes a lot of lab work, looking at components under a microscope, and understanding why they failed. I run a lot of experiments and communicate results with many people across the team.'
Syeda spoke to the students about her life and journey so far saying, 'I always had an interest in engineering, even at a young age. I realised the extent and impact of engineering, and how it contributes to essentially everything in society and the thought of being able to make a change was very motivating for me. I studied GCSE Triple science, French, Graphic Design and Drama and then Maths, Further Maths and Physics at A-Level. In Sixth Form, I was awarded a 'Girls in STEM' scholarship, which allowed me to do a lot of stuff outside the classroom learning. I did two work experiences with Jacobs and Thales as well as getting to visit Imperial College London and McLaren Technology Centre. After A-Levels, I went to University to study Mechanical Engineering where I undertook a variety of extracurricular activities. These included the Shell Eco Marathon in which I integrated a hydrogen fuel cell into the vehicle, and I was Faculty Rep for all Engineering at UCL. In my second year of University, I was awarded a Young Leaders Scholarship from the Royal Academy of Engineering.'
Syeda explained to students that engineering is not a 'set definitive thing' and highlighted the extent and impact of engineering. She said, 'Skills used in engineering are typically problem-solving, creativity, critical thinking and teamwork. Many of the students will realise that they may already be exercising these skills in activities such as team sports, arts and crafts, board games, lego etc.
Although not a very glamourous example, a toilet truly encapsulates what engineering is about. In the 19th century, thousands if not millions of people were dying from cholera due to drinking water from the River Thames which was infested with waste. To solve this problem, Bazalgette invented the toilet and London Sewer System. Even now, when reflecting on the lives of the poorest billions, one of the most significant improvements that can be made to their lives is a toilet!'
Speaking about being a woman in engineering, Syeda said, 'I really wanted to emphasise to students that being different in engineering is rewarding as it allows you to bring a different perspective to a problem. Being a woman in engineering can be difficult, but you can make it your own space; don't hold yourself back because you are apprehensive of being in a male dominated industry.'
When asked to give our students, who may be thinking about embarking on a career in engineering, one piece of advice, Syeda said, 'Just go for it! Studying engineering is never going to put you at a disadvantage. Engineering is extremely varied and the skills you learn make you extremely valuable.'
Year 12 student Lois Hall said, 'The talk was engaging, inspirational and empowering for women looking to go into engineering as Syeda shed light on what it is like to work in Red Bull's Formula One team and shared tips on how to go about getting into engineering.'
BWA Design Technology Teacher, Gareth Van Wyk, who organised the event said, 'The number of female students picking Engineering as a subject is very low, and it is important to expose these students to job roles that exist within this field. Every student in KS3 now participates in a 12-week Engineering cycle within our DT department where they are exposed to the different careers as well as how we use Maths and Science to solve problems.'