Safeguarding
Brooke Weston knows that it is of the upmost importance to have good systems for protecting and safeguarding the welfare of all our students. This means that anyone who works with our students must be alert to possible concerns and report these appropriately and in a timely manner.
In order to protect our students, it is our aim to:
Create an atmosphere where all of our students feel safe, secure, valued and listened to
Recognise the signs and symptoms of abuse
Respond quickly and effectively to cases of suspected abuse
Brooke Weston will support all students by:
Encouraging self-esteem and self-assertiveness whilst not condoning aggression or bullying
Promoting a caring, safe and positive environment within the Academy
All Brooke Weston staff should be aware that:
Their role is to listen and record carefully any observations, which could indicate concern/abuse
They should not attempt to investigate, once the initial concern is raised
They should involve a member of the Safeguarding Team immediately
If the Safeguarding Team are not available, the Principal should be contacted
A disclosure of abuse or harm could be made at anytime
Prior to external agencies being invited in to the Academy to work with our students or to carry out work on the premises, all relevant DBS checks and identification has been seen/verified.
The Brooke Weston Trust policy for safeguarding and Child Protection is to:
Protect children from any maltreatment or harm and prevent any impairment of their health and/or development
To ensure each academy offers a safe and supportive environment for all children under its care and creates a culture of vigilance throughout the organisation
Ensure all staff, governors and visitors are aware of and clearly understand their statutory safeguarding responsibilities
Outline how all staff, governors and visitors will meet their safeguarding duty and protect children from harm
Enable all children, no matter what their background or circumstance, to have optimum life chances beyond the Academy.
The BWT Safeguarding and Child Protection Policy can be found here:
Reporting Procedures
Staff
If a staff member has a concern, that a child is being harmed or is at risk of harm or receive a disclosure (intentionally or unintentionally), they must contact one of the Safeguarding Team.
Parents and Students
It is really important to us that our students remain safe. If you have any issues regarding the safety or wellbeing of a student please contact the school using the one of the following:
Out of Hours Support
The Multi-Agency Safeguarding Hub (MASH)
The MASH can advise on whether a family needs early help or whether they meet the threshold for statutory child protection. Telephone: 0300 126 7000
Out of hours service
Should you need to contact children's Social Care urgently during the evening, at night or at the weekend, phone the out of hours team on 01604 626938. An operator will answer the phone and take details of the concern and your contact details. They will then pass this information over to the duty social worker.
Contact Us
If you use a contact form below, a member of the student care team will be in touch with you within 48hrs (Monday - Friday).
If you have a concern that is over the weekend or a school holiday please contact one of the local support helplines listed within this area e.g. Youth Works.
If your concern in urgent please contact the Samaritans on 116 123, Child Line on 0800 1111 or if it is an emergency or you are in danger please call 999.
If you want to report a concern anonymously, you can also complete the form without your name or contact details.
Designated Safeguarding Leads
Useful Links
Harmful Sexual Behaviours
Sexual Harassment and Abuse
Sexual abuse in any form is unacceptable.
A dedicated helpline is now open to support anyone who has been a victim of sexual abuse.
The helpline is run by the NSPCC and will provide victims of abuse with the appropriate support, advice and onward action, including on contacting professionals or the police if they wish. The helpline will also provide support to parents and professionals too.
Telephone 0800 136 663, or email help@nspcc.org.uk.
More information can be found at https://dfemedia.blog.gov.uk/2021/04/01/everything-you-need-to-know-about-the-governments-newly-launched-abuse-in-education-helpline/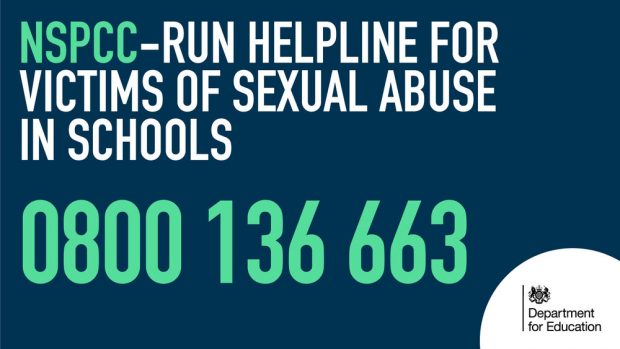 ​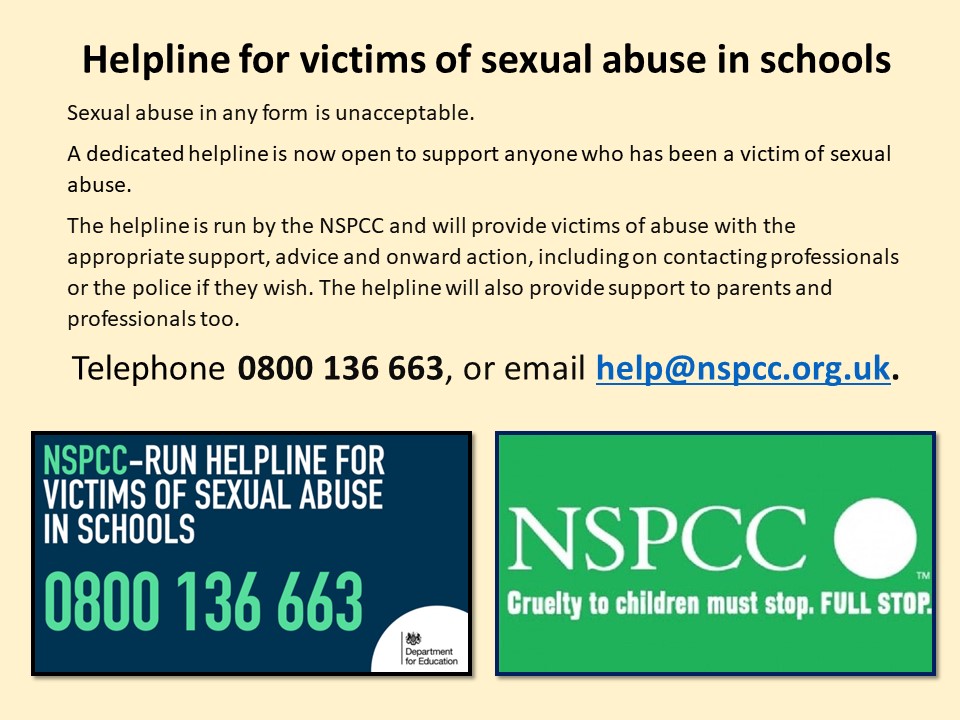 Stop It Now! are a child protection charity working to prevent child sexual abuse. They have a live chat and secure messaging feature on their website: https://www.stopitnow.org.uk/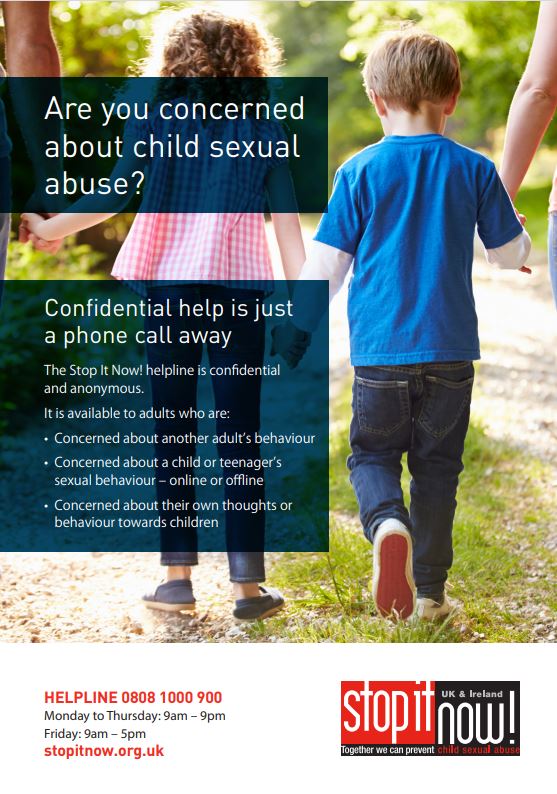 Substance Abuse Support and Information
Ngage offers a free and non-judgmental support service to young people living in Northamptonshire
Our support can be accessed by any young person aged 10 - 18 years old who is at risk of using drugs and or alcohol or is already using drugs and or alcohol.
Telephone: 01604 633848
E-mail: YPNorthamptonshire@aquarius.org.uk
Links to further information and a referral form can be found in the downloads section at the bottom of this page.
Domestic Abuse Support and Information
Brooke Weston Academy is part of a jointly run operation between Northamptonshire County Council, Northamptonshire Police and our school, the national name for this process is Operation Encompass. Encompass has been set-up to help schools to provide support to children who may have been affected by incidents of domestic violence. We know that children can be significantly physically or emotionally harmed when they are involved in, present or witness to domestic abuse.
Under this scheme the school will receive notification from the County Council following any domestic incident that a child at their school may have been affected by.
The staff members identified on this page are identified as Key Adults who will receive this information.
They have received guidance from Northamptonshire County Council to allow them to use the information that has been shared, in confidence to make sure that the right support is available for children and their families.
We are keen to offer the best support possible to our pupils and we believe this is going to be extremely beneficial for all those involved. 
Advice for Parents
If you are worried about yourself or a friend then you can seek advice and guidance from Northamptonshire Domestic abuse Service provides support for the victims of Domestic Abuse using the link below.
If you or someone you know are in immediate danger please call the police straight away on 999
Advice for Students
What to do if I am worried about myself or someone I know?
Tell an adult you trust
Make a report using the contact form above
Report any crime anonymously using the link below
​
If you or someone you know are in immediate danger please call the police straight away on 999
If you need additional guidance and don't know where to go call childline
Mental Heath and Wellbeing Support and Information
Sometimes things can be tough and there is no shame in needing a little help sometimes.
If you or someone you know is struggling please speak to someone.
The links below will take you to experts who can guide you when things feel too tough.
Don't forget ZUMOS remains available to you all 24 hours a day 7 days a week. Zumos can offer daily well-being advice and signposting, email a worry or problem to "Speak Out" and you will receive a personal reply advice and guidance in confidence
Please contact your form tutor if you need reminders about log on details.
Online Safety Support and Information
The link below takes you to goverment guidance and support for parents and carers to keep children and young people safe from online harm
​
Home Activity packs
Think U Know and Childnet provide age-specific activities about online safety to do with your child at home in addition for guidance for you as a parent
NSPCC provides tips for parents on how to keep your child safe on line
Online Safety Guide for Parents/ Carers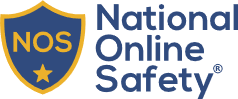 ​
Click on the image above to find out about the free parental App that gives you access to access helpful guides including:
Parental Controls
Social Media Apps
Online Bullying
Online Relationships
Online Reputation
Other Guidance for Parents/ Carers
Provide practical tips to help children stay safe online including age-specific issues, setting devices up safely and tools for reporting issues to relevant organisations.
Net Aware provides a guide to all the latest social network, apps and games.
Reporting concerns
Click on the make a report link above to make a report directly to the school safeguarding team.
If you or someone you know are in immediate danger, please call the police straight away on 999
---
Other Useful Documents