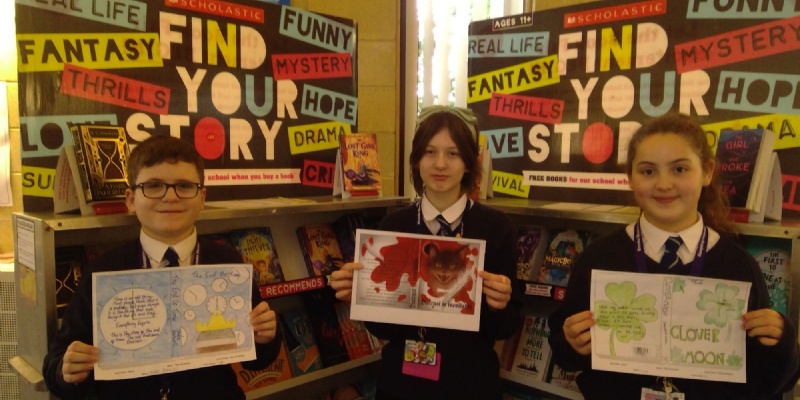 Well done to the winners of the Library's 'Design a Book Cover' competition
Congratulations to Year 7 students Jake Barwell and Olivia Purdy, and Year 8 Ania Folga, whose book covers' all won a prize in the Library Book Fair 'Design a Book Cover' competition.
Students from Years 7 and 8 were challenged to design a book cover to be in with the chance of winning a book of their choice from those available at the recent Scholastic Book Fair. They could design a new cover for a book they had read, or a cover for an imaginary book made up by themselves; the only criteria being that the cover needed to be colourful, intriguing and eye catching as well as including a blurb, a title and the author's name on the spine.
Jake, who based his book cover on a TV programme he had watched said, 'It took me a couple of hours to complete my entry and I may even start writing the full story now'
Olivia, who drew an alternative cover for the Jacqueline Wilson book 'Clover Moon' said, 'It was a lovely surprise to hear that I was one of the winners as I wasn't expecting it at all'
Ania, who drew inspiration for her design from a book she had read said, 'I have written a few stories before, and I knew I wanted to have a cat on the cover of my design but also make it a bit edgier. It took me around 2-3 hours to complete.'
Head of DT, Jenny Strydom, and Head of Art, Charlotte Asprey, judged the competition and both agreed that it was a difficult decision to narrow it down to the top three entries.