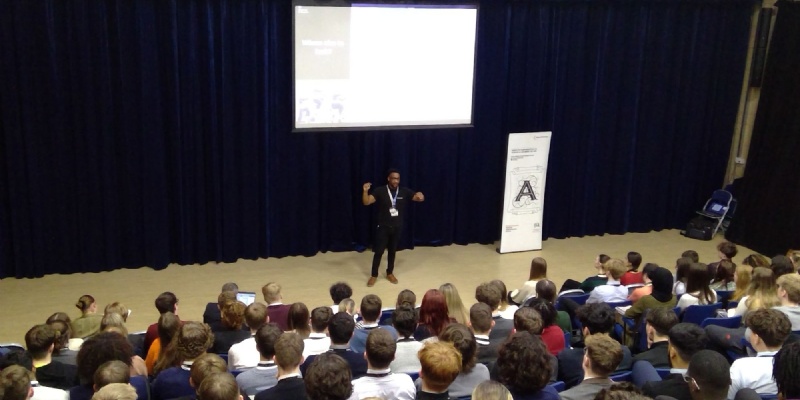 KS5 students find out about the apprenticeship route during a special assembly
Brooke Weston Academy was delighted to welcome Alonzo Simpson from Work Pays to deliver a DfE funded Apprenticeship Support & Knowledge (ASK) Apprenticeship Awareness Assembly to our Year 12 and 13 students.
Students were given an overview of modern apprenticeships, focussing on those at Level 5 where the apprentice gains a degree level qualification without the need to pay fees; as is the case with a traditional university-based degree. Students who take this route also gain invaluable experience of the role over the 4-5 years apprenticeship whilst also earning a salary.
All students registered with the ASK Apprenticeship programme will receive regular alerts for apprenticeships that fit the criteria they specified on registering. Those interested in pursuing the apprenticeship route attended a second session with Alonzo, where he offered guidance and advice on applying for apprenticeships and how to structure CVs.
Year 12 Ray Harper said, 'Since last year I have been thinking about the apprenticeship route, but I was still undecided. The assembly and application session has helped confirm for me that the apprenticeship route is the right one for me. I will be attending the 'What Next?' event at Birmingham NEC with my family in early March to start finding out more and planning my next steps.'
Year 13 Dionne Ofori-Boadu said, 'I am so glad that all students in Year 12 and 13 had to attend Alonzo's assembly as if it had been optional I don't think I would have attended! Now that I have seen what is actually on offer through the apprenticeship route this has made me reconsider my next steps and I will be considering applying for an apprenticeship in law.'