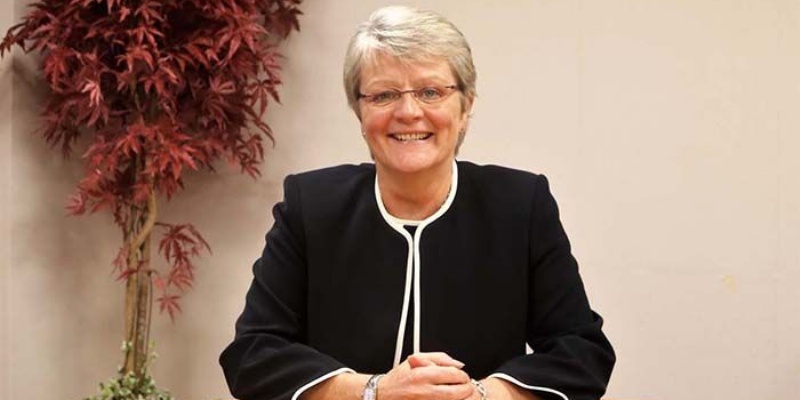 Miss Trish Stringer, Director of Education for the Brooke Weston Trust, is retiring after 33 years in the profession, 27 of which have been with the Trust. Her determination to put students at the heart of all decision making is an approach which has served her well throughout her career.
Inspired by an amazing secondary school teacher, Trish chose a career in education. She has been at Brooke Weston Academy since 1991, initially as a Head of Department and from 2007 to 2015 as Principal. She then became an Executive Principal working with a cluster of five schools across the Trust and more recently took on the role of Director of Education supporting Principals across all schools in the Trust.
Trish has had many proud moments, including her first Ofsted experience as Principal, when Brooke Weston was judged to be Outstanding in 31 of 32 categories. Other memorable achievements were Brooke Weston Academy's designation as one of the first 100 National Teaching Schools and when Trish herself gained accreditation as a National Leader in Education. Trish is one of the founding Directors of 'Inspiring Leaders', an organisation set up in the East Midlands offering National Professional Qualifications to train and support leaders at all levels within schools. However, it is the rewarding relationships with students and her colleagues, which Trish has valued most throughout her career.
When recruited to Brooke Weston Academy, it was a school under construction, no more than a steel structure on a rather muddy building site. The vision of the founding Principal, Gareth Newman, persuaded Trish to join as one of a handful of pioneer teachers working in a school with a very different technical focus, ethos, structure, curriculum and term-time, to that offered in traditional state education at the time.
She said: 'In those days that vision was so different, the whole notion that children could sit at the heart of every decision made was a vision which inspired me then and continues to do so as I retire from the profession.
'As Principal of Brooke Weston Academy, I was privileged to have an incredibly able senior team who offered support, trust and challenge in equal measure. The responsibility on any Principal is to ensure their school offers exceptional care for everyone, whilst at the same time providing an amazing educational experience which challenges everyone to be the best that they can be.'
She is an ardent believer that leadership at all levels within the profession is crucial in bringing out the best in everyone. 'My first Head of Department drilled into me the need to be organised, to lead and manage people with respect, compassion and humility and I would like to feel that these principles have guided me throughout my career.'
Trish has been instrumental in driving the educational provision for schools in the Trust. She is passionate and determined in her quest to ensure that all students are provided with the best educational experience; an experience that challenges and supports them to realise their full potential.
She said: 'It has been a real privilege to be able to work so closely with Principals and staff across the Trust. We have an amazing group of teaching and non-teaching staff who go the extra mile every day to support children in so many ways. The Trust is in a strong position and now is the right time for me to retire. I am grateful for the opportunities I have been given and how my career has evolved. I am proud of the thousands of students I have met and their amazing achievements over many years in the profession and I am deeply grateful to the colleagues who work tirelessly to support children in their learning. Supportive parents are key to everything we do in schools and I have met some fabulous parents throughout my teaching career.'
Finally, when asked to recall her favourite memories, Trish responded 'There have literally been millions of priceless moments and precious memories, which I will take with me into retirement. The opportunity to inspire young people and change lives is what makes teaching such a special career. I wish all my colleagues and students across the Trust every success in the future.'
Brooke Weston Principal Mr Pete Kirkbride said, 'Trish has been an inspirational teacher and leader of Brooke Weston Academy. She talks about Brooke Weston Academy being her life's work and generations of Corby and Kettering students have benefited from her deep belief that every child regardless of their starting point or background deserves a world class education. After 27 years of public service it is right that Trish's impact on this school and the wider education system is celebrated. As a new Principal I cannot thank her enough for her support, time, advice and mentoring over my first year leading Brooke Weston Academy. They were big boots to fill! Trish will be missed by the whole Brooke Weston Academy team and we hope she has the most amazing retirement.'
Brooke Weston Trust CEO Dr Andrew Campbell said: 'Having worked closely with Trish for many years, firstly at Brooke Weston Academy and latterly as part of the leadership team across the Trust, I would like to pay tribute to her steadfast determination and relentless drive to ensure that students always had the best possible care, education and life chances. Trish has been a trusted colleague, friend, ally and confidante to many, but one of her great strengths has been that she is not afraid to challenge and hold colleagues to account, at any level of the organisation, to ensure that standards and a drive for excellence are maintained.
'She has been a phenomenal force for good and we all owe her a tremendous debt of gratitude for her tireless and knowledgeable contribution. Brooke Weston Academy and the Brooke Weston Trust just won't be the same without her. On behalf of the Trustees, Board and Principals of the Trust, as well as the colleagues and many thousands of students she has worked with during her career, I'd like to wish her a very long, happy and well-deserved retirement.'