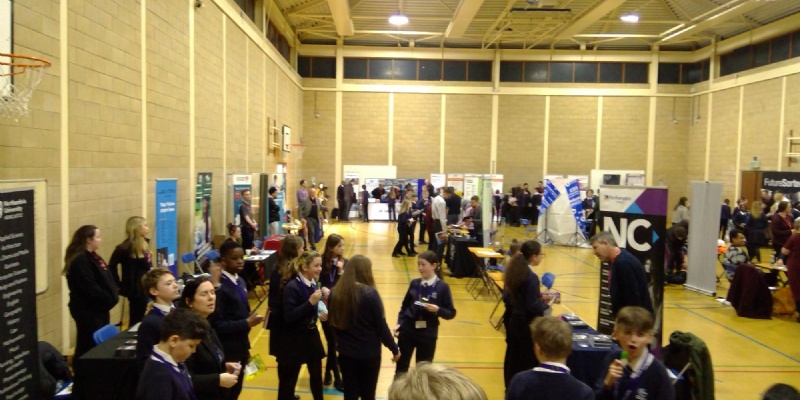 BWA hosts its annual Careers Fair for students and their families
Brooke Weston Academy's annual careers fair was a huge success, attracting hundreds of students and their parents and carers, providing them with an opportunity to find out more about careers and education opportunities and to discuss their future aspiration and destination plans.
The event was organised by BWA Careers Lead, Amber Colquhoun, and Assistant Principal-RSL Year 7/8 Jonathan Browne. Exhibitors from across the region included Higher/Further Education providers as well as local businesses who were all eager to meet our students and their families to showcase potential apprenticeship, Gap Year and higher or further education opportunities.
Several of the exhibitors included former Brooke Weston students, including Kyle Fielding, Commercial Director at Kori Construction; Penny Chown, Level 7 apprentice with Azets Group Accountants; Keavy Powell, Level 6 Food Science and Technology degree apprentice with Unilever; Jack Underwood, Corporate and Sustainability apprentice with Kier Construction and Andrei Acatrinei, apprentice Site Manager with VolkerFitzpatrick.
Jonathan Browne said, 'In addition to our Key Stage 4 and Key Stage 5 students attending the event, it was also a fantastic opportunity to introduce our Year 7 students to their first ever careers fair and discuss with potential employers about their future pathways. Thank you to everyone who supported and exhibited at the event'