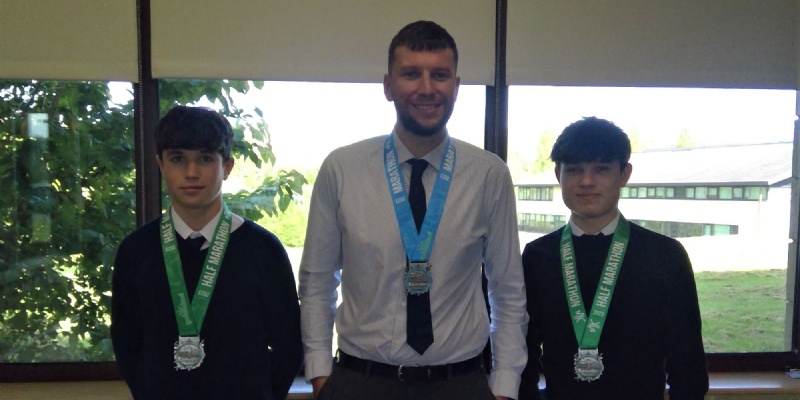 Staff and students take part in the MK Marathon Weekend
Well done to Brooke Weston Academy Head of History teacher, Lewis Holdcroft, and Sixth Formers Matty Church and Luca Di Rienzo, who all joined thousands of runners taking part in the Milton Keynes Marathon Weekend.
Lewis successfully completed his first-ever full marathon event, with an impressive time of 03:40:35. He said, 'I have experienced running a marathon previously when I completed an Ironman Triathlon, and I am already planning to take part in another marathon in Chester later this year. It was great to see Matty and Luca at the event, and I even managed to run with them for a short time along part of the course and I have to say that they both looked incredibly comfortable. The course finished with a gruelling uphill section, and it was a fantastic event with a great festival-style atmosphere for competitors and their families'
Matty and Luca were the youngest competitors amongst 1,469 people taking part in the half-marathon event, which they both completed in 01:54:32. It was the first competitive half-marathon for both students, although they had covered the distance once before in the three weeks training they undertook in preparation for the event.
Matty, who is studying History, English Language and Psychology said, 'I decided to enter the MK half-marathon as I was looking for a new challenge to take on. It was quite a last minute decision to take part, and we only had three weeks to train in preparation for the event. Going forward I would like to take part in triathlons and work towards competing in a half-ironman as I already enjoy swimming once a week. I would also consider taking on the London marathon in the future as it is such an iconic event.'
Luca, who is studying Business, Psychology and Sport said, 'I decided to take part in the event with Matty as he needed a running partner and I knew the training would also be useful for my football as I am currently playing for Market Harborough U18's. Although we only had three weeks of training, we ran the full 13 miles in week three and the night after that I had to attend football training which was really tough! I enjoyed the experience and the crowds really kept you motivated to finish, and I would consider taking part in the London marathon in the future.'