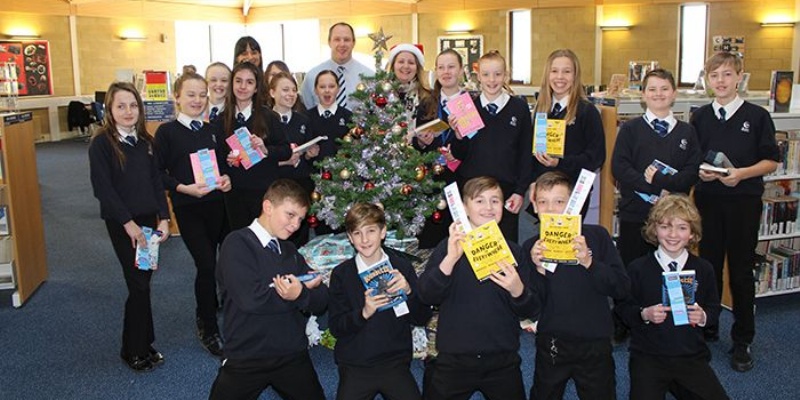 Students from Year 7 received a free book from the Library as part of the Bookbuzz programme. Over 180 books were wrapped by Sixth Formers Charlee Broad, Amy Kirby and Daniel Fell and handed out to students during tutor time.
Bookbuzz is a reading programme from Book Trust, which supports schools to encourage reading for pleasure and develop a whole school reading culture.
The 12 books were all selected by a panel of experts, including teachers and librarians and designed to appeal to all students, regardless of their reading level. Titles available this year included Murder in Midwinter by Fleur Hitchcock which was shortlisted for Best Crime Novel for Children aged 8-12, The Boundless by Kenneth Oppel which was highly commended in the UKLA Book Awards, and Wonder by R.J Palacio which has now hit the big screen in a movie starring Julia Roberts.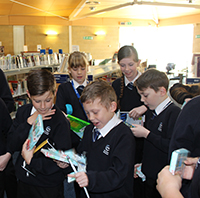 The most popular title this year was Murder in Midwinter by Fleur Hitchcock, a fast-paced crime story with nail-biting action, a mystery to solve, and a heart-racing finish.
The scheme, which has been running for several years at Brooke Weston was co-ordinated by Librarian Ms Wendy McCabe, she said 'The great thing about Bookbuzz is that they are not being told what to read, it's their choice. Being able to hand out the books as Christmas presents is extra special and they are genuinely excited that they have a book that is theirs to keep and don't have to bring it back when they've finished reading it.'
Year 7 student Emily Smith said 'I am really excited about receiving my book as it looks really funny. I have got 'Danger is Everywhere' by David O'Doherty. It was really nice to get the book as a present as I don't usually get them.'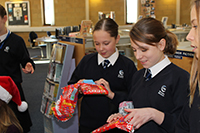 Year 7 student Carter Love said 'I thought that this book would be exciting as it's full of fun, excitement and danger. I think it is very nice that the school has given us a book as it is exciting and it makes you want to read as you have your own book.'
In the New Year Ms McCabe will be launching a competition for the Year 7 students to write a review on their chosen title and be in with a chance of winning the other selection of 11 books. All this year's Bookbuzz titles are available to borrow from the Library.