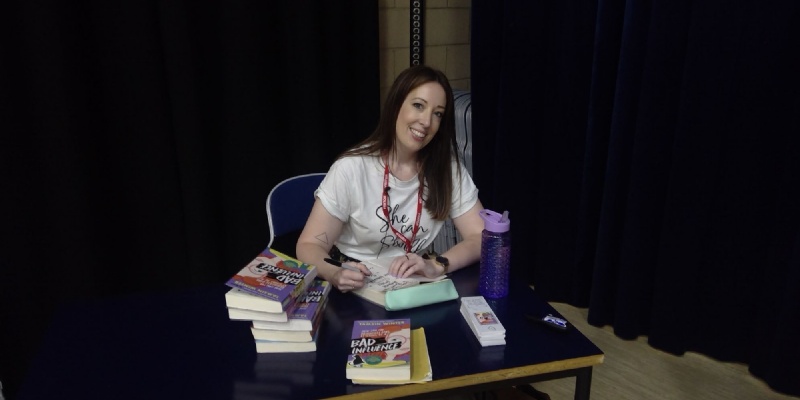 Award-winning author Tamsin Winter inspires Year 7 during her visit to BWA
Award-winning author Tamsin Winter spoke to Year 7 students at Brooke Weston Academy about the inspiration behind her books, her journey to becoming an author and how real-life issues including bullying, body image and social media usage feature in her books.
Tamsin, who trained as a teacher at BWA and taught English here until leaving in 2005, always wanted to be an author and has recently had her fourth book published.
Her first book, 'Being Miss Nobody', deals with mental health issues, selective mutism and bullying, while her second novel 'Jemima Small Versus the Universe' deals with issues of body-shaming. Her third book, 'Girl (In Real Life) looks at the impact of social media and what it's like to grow up online. Tamsin's fourth book 'Bad Influence' deals with the dangers of sharing photos online and the desperate need to fit in.
Tamsin said, 'My dream of becoming an author started as a child back in 1987, but it wasn't until 2017 that I achieved that dream. I studied creative writing at university, then got a job but kept on writing. It wasn't until 2015 that I had this really powerful daydream. I saw this girl, sitting in a classroom, being completely ignored by everybody around her, but there were all these words tumbling around in her head. I really wanted to write this girl's story. That became 'Being Miss Nobody'. That story led to me getting my book deal, something I had dreamed about for 30 years.'
Tamsin read an extract from her latest book 'Bad Influence' to students and shared her advice for anyone interested in becoming a writer. She said 'Write whenever you can in your spare time, believe in yourself and never give up the dream.'
Tamsin also spoke about the writing and editing process and produced the ten drafts she had written of one book to illustrate how time-consuming the process is. She said, 'A lot of people think that when you are a writer it all comes out perfectly, and you send it off to your publisher. That is certainly not the reality. I've got over 400,000 words in the drafts which have gone to make a book of 60,000 words. Words have been deleted, changed, edited, cried over, ripped up and then eventually they became a book.'
Students had the chance to ask Tamsin questions about her books and writing career as well as having the opportunity to buy a book and have it signed by Tamsin.
Copies of all Tamsin's books are available to borrow from the Library.