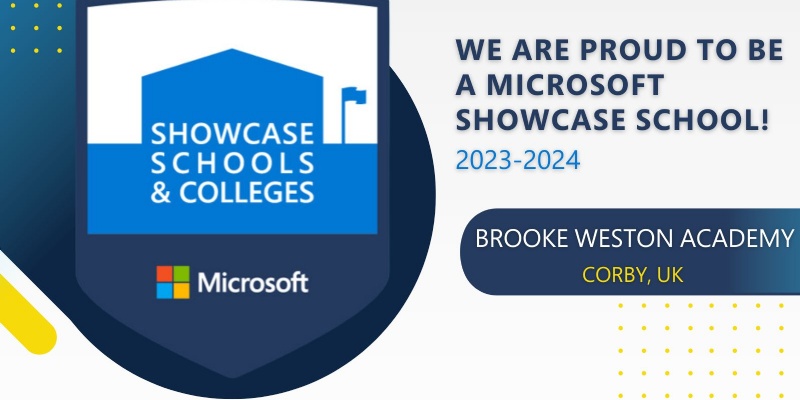 BWA celebrates success as a Microsoft Showcase School
We are thrilled to announce that Brooke Weston Academy has been recognised as a Microsoft Showcase School. Microsoft Showcase Schools are pioneers in education with only a limited number of institutions earning this designation, and we are proud in knowing that Microsoft recognises our impact on the future of education.
This recognition is a testament to staff dedication, innovation, and excellence in supporting both staff and students to become 21st Century learners:
Microsoft Educators: All BWA teaching staff have completed the Educator learning journey, with the programme now embedded in new staff inductions and rolled out to support staff.
Microsoft Advanced Educators: Over 20 BWA staff members have completed the Microsoft Advanced Educator learning journey. Their expertise ensures that our students receive a world-class education that prepares them for the future.
Microsoft Certified Educators: BWA staff members - Sophie Jackson, Jess Wells, Valencia Lavia, Ignus Fourie, Amber Colquhoun, Jamie Jones, Maxime Jabado and Andrea Lupton - have achieved the status of Microsoft Certified Educator. This achievement highlights their dedication to staying at the forefront of educational technology.
Microsoft Innovative Educator Experts: Careers Lead, Amber Colquhoun has been successfully accepted as a Microsoft Innovative Educator Expert. This award recognises the outstanding contributions to education, systems and processes, and innovative approach to teaching.
These achievements are a testament to the extraordinary calibre of educators that form Brooke Weston Academy. Each of these successes is a reflection of the dedication, hard work, and commitment to excellence that define our school community.
We are excited to continue on this journey of educational transformation and be part of an exclusive global community celebrated for educational transformation.
Find out more about our Microsoft journey here.