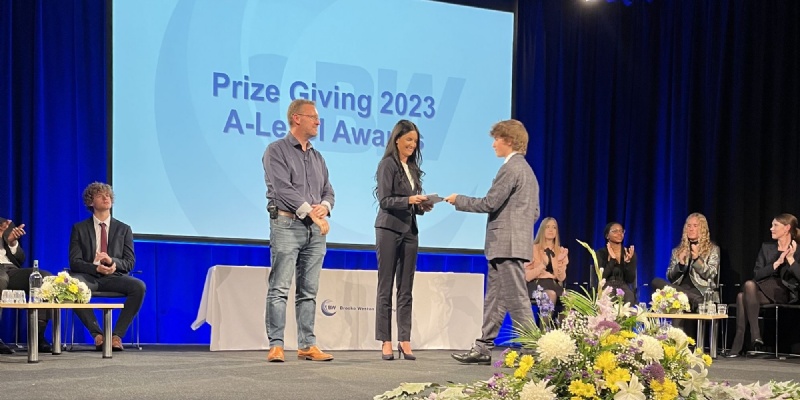 BWA Prize Giving celebrates student achievements
The achievements of over one hundred Brooke Weston Academy students were celebrated at the Academy's annual Prize Giving event where guest speaker, Professor Ben Hodgkinson, BEM, addressed the audience and presented prizes.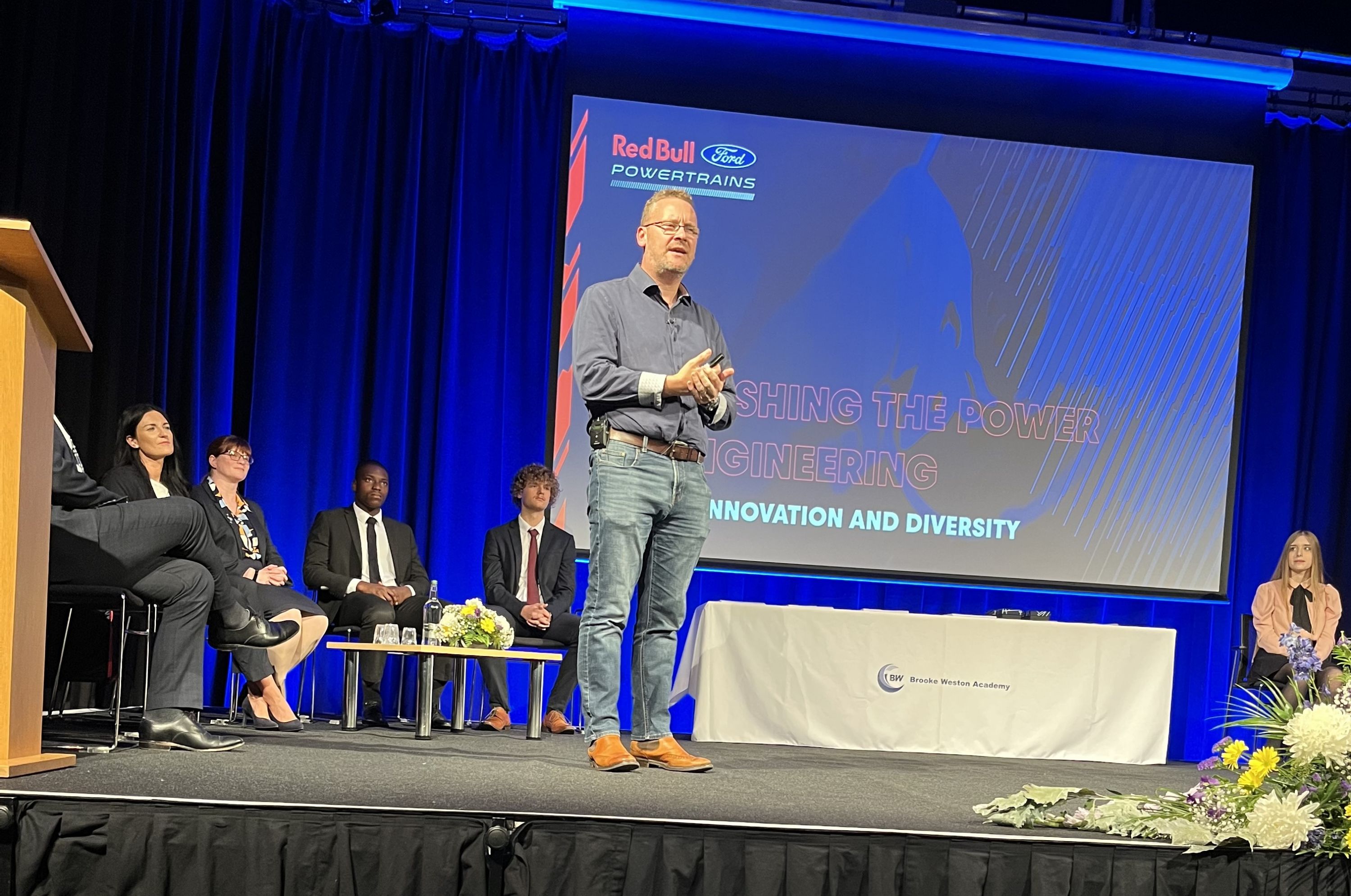 Ben achieved his Masters in Mechanical Engineering from University College London, before beginning a career in motor sport as a design engineer. He joined Red Bull Ford Powertrains as Technical Director in May 2022, after spending more than two decades in a variety of roles in Formula 1.
During the Covid-19 pandemic, Ben joined the UCL Ventura project to help produce 1000 ventilators to help with demand needed at the time and his contribution to the project earned him the British Empire Medal (BEM) from the late Queen Elizabeth II.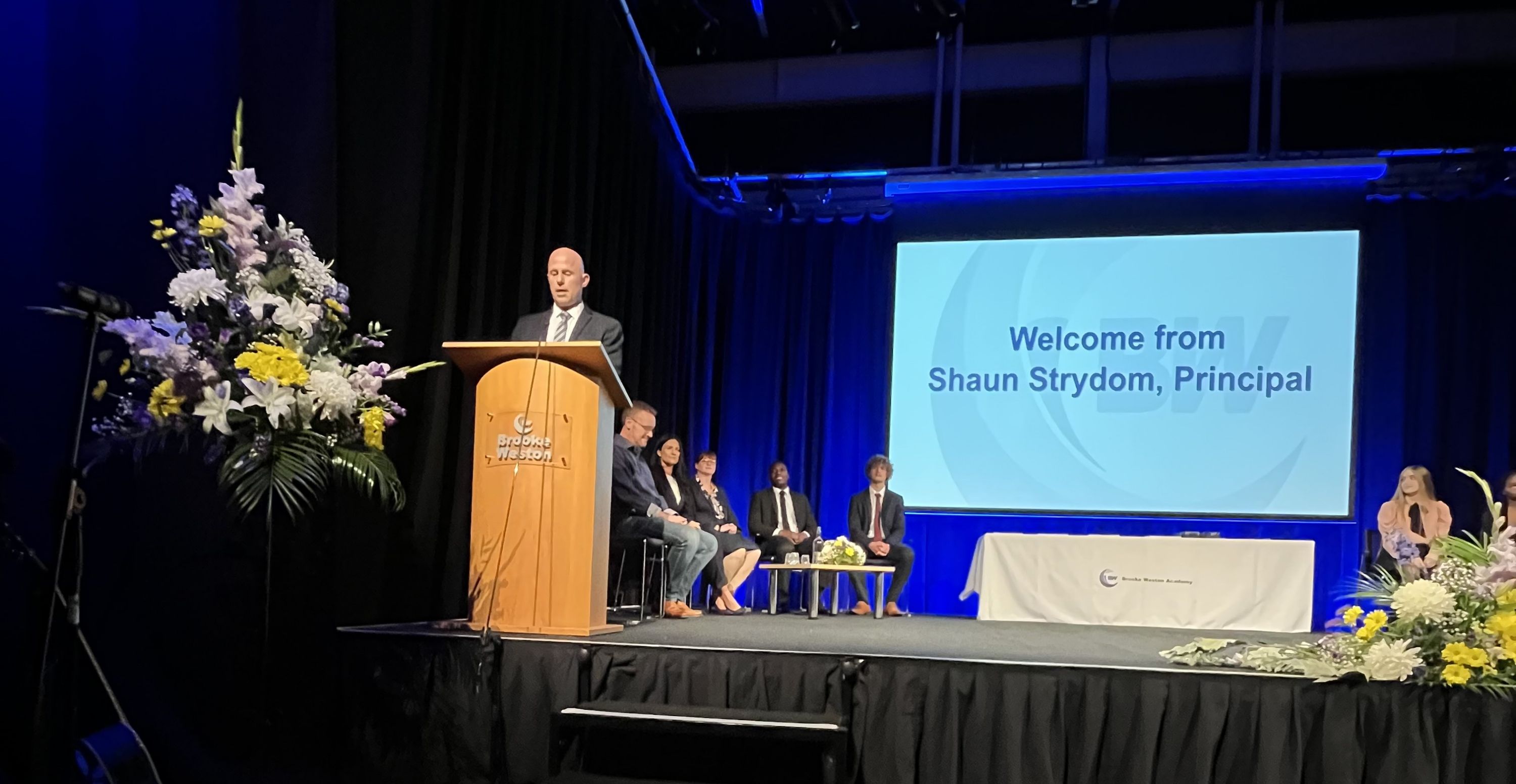 The evening began with a warm welcome from Principal Shaun Strydom, before the audience watched a review of the year film, produced by Year 11 student Malik Sharif and Year 12 students Austin Portman, Luke Alderson and Oliver Chambers, showcasing a few of the many activities and achievements at the school. This was followed by a welcome from the Chair of Governors, Jonathan Wintle.
Brooke Weston's Head Student Leader, Jack-Brent Thomas (Y13), led the student leader speeches before Year 13 students Marcus Ciobanu, Mitchelle Mushipe, David Obembe and Inez Kubiaczyk spoke about their specific roles as, Academic Leader; Diversity Leader; Charity Leader and Well-being Leader, respectively.
Awards were presented to students who had excelled in individual subject areas before Tom Jones (Y13) and Lucia Clarke (Y11) recited the poems 'The Road Not Taken' by Robert Frost and 'If'' by Rudyard Kipling.
During the musical interlude, Lilly Cockburn (Y11) gave a stunning rendition of 'She Used to be Mine' from the musical The Waitress and Michael Jones (Y11) performed a beautiful piano recital.
Four of our students, Harry Ambery (Y8), Josh Parker (Y9), Yasmin Rust (Y11), and Henry Brandrick (Y11) were awarded the Sport Colours Awards in recognition of their prowess in many sporting disciplines.
Outstanding Student Awards went to Amelie Sando (Y7), Ciaran Hughes (Y8), Niveitha Niroj (Y9), Lily O'Brien (Y10) and Emilia Wright (Y12).
Sam Swingler (Y12) and Dylan Chan (Y11), were the recipients of The Principal's Award, with Emily Crooks-Douglin receiving the Outstanding GCSE Student Award. The Hugh de Capell Brooke Award was presented to high performing A-Level student Blazej Punchala, by Wendy de Capell Brooke, who gave a speech and congratulated Blazej on his success.
Thank you to all of our sponsors and to everyone who attended, and a huge thanks to everyone who worked hard on the organisation, catering and audiovisual services to make the night such a success. A special thank you to the Principal's PA, Alison Ralph, who was in charge of organising this memorable Prize Giving event.