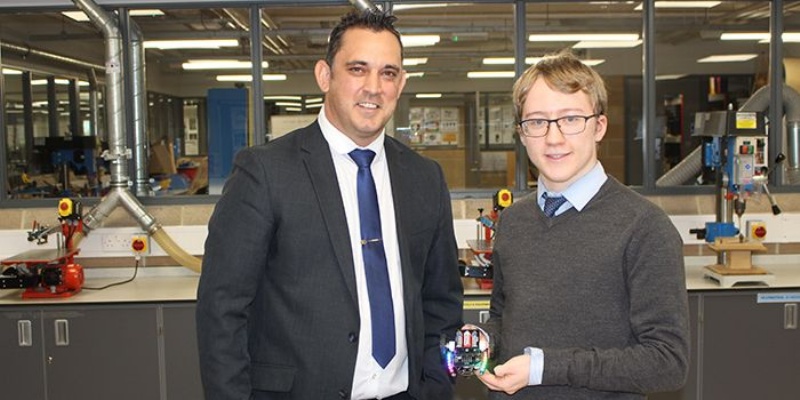 Following years of research, teachers at Brooke Weston have been working across departments to introduce robotics into DT and have succeeded in bringing IT and DT together to enable students to make and programme robotic bugs.
The project will be introduced to KS3 students this term and will see students learn to solder and make a hex bug which they will then programme to follow lines using a simple BBC Micro:bit.
Head of DT Mr Jonathan Browne said 'We have been wanting to introduce robotics into DT for a few years now and for some time we have been making simple vibro bugs, which are a bit like a hexbug. We are now working cross curricular with IT to bring in the BBC Micro:bit, which IT will show students how to programme and then we will develop it into line following robotic bugs.
'There has been a lot of information in the local news recently about jobs in Kettering and Corby being lost due to the use of robots instead of people, which is an opening for us. They will need people to programme the robotic arms, so as well as programming the hexbugs we have purchased some robotic arms and will introduce these to Year 8 students to programme. Robotics is where the world is going so being able to incorporate it into DT allows us to make our lessons fresh and relevant and brings us up to the 21st centaury.'
DT teacher Mr Vanwyk has been developing the project together with IT teacher Mr Ray Chambers and Sixth Form student Will Evans. He said, 'If you look at the 3d printers we have in school you have to programme them to print something, machines within industry that build cars are all programmable nowadays too. It's definitely where I see DT heading and also having worked in industry myself and programmed machines; I see the value and the importance of teaching it to the students. I think there is a simple way to teach the concept to them with room for development for the older classes and I am very excited to start working on it'.