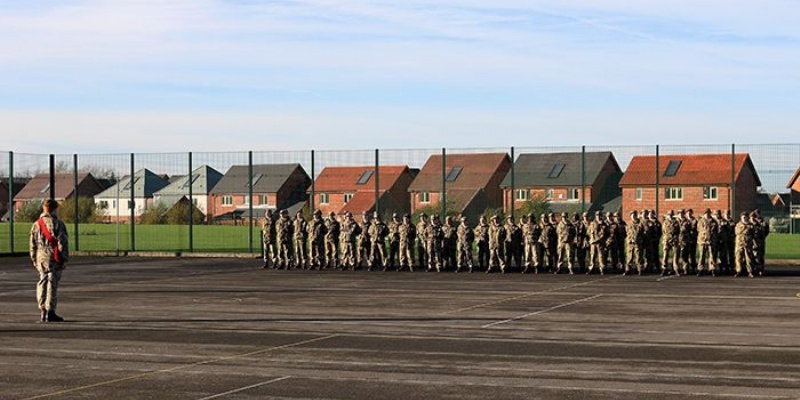 Brooke Weston Academy students received awards and berets at a ceremony held by the Brooke Weston Trust Combined Cadet Force. The event comprised a Remembrance ceremony and parade. It was attended by parents and Trust leaders, including Principals and CEO, Dr Andrew Campbell.
The colour party, comprising senior cadets, led the contingent for their formal parade. This was followed by a period of Remembrance with a poem, a wreath laying and a minute's silence.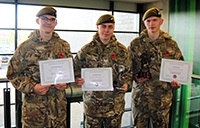 The Trust's Director of Education Trish Stringer presented the newest cadets with their berets before promotions and individual awards were distributed to students from across Trust schools.
Cdt Courtney Mountford from Brooke Weston Academy was promoted to Lance Corporal and was also named Best Second Year Cadet.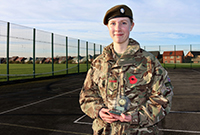 Sgt Kearnu Stapleton received the Best Fourth Year Cadet award and Sgt Pete Sammons won the Infantry Cup for being the best military performer in the field. They were both also presented with the Contingent Commander's Commendation, along with fellow BWA students Sgt Damian Damanowski and Cdt Tom Simmonds. The award was for their outstanding performance at the Combat Cadet 2017 training camp earlier this year, where the BWT CCF cohort achieved first place for expansion CCF contingents and fifth place overall.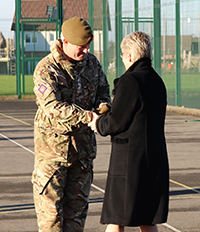 Finally, at the ceremony, held at Corby Business Academy, Miss Stringer was presented with the 'Special Beret Award' by Contingent Commander Capt Matt Isherwood, as a thank you for her support for the BWT CCF since its formation nearly four years ago. She said: 'This is a proud moment and this award means everything to me.'
LCpl Mountford said of her Best Cadet award: 'I really enjoy CCF, it has been a great experience. I have learned a lot of leadership skills, it has made me more adventurous and given me confidence. I really love the field exercises when we take the rifles out and do military exercises.'