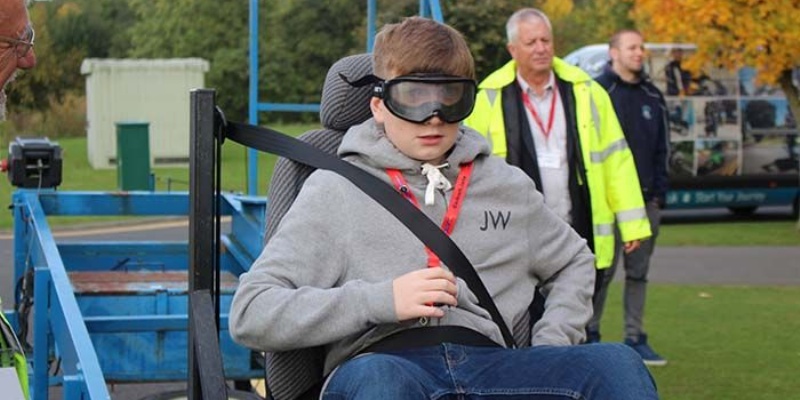 Students in Year 11 were invited to take part in a pre-learner road safety morning where they experienced driving a car and riding a motorbike for the first time as well as having an hour of classroom road safety education.
The event, the second one to be held at Brooke Weston this year, was organised by Northamptonshire Highways, working with the Motorcycle Industry Association and Northamptonshire Police and has seen more than 270 students take part in an hour of classroom education, an hour driving a car and an hour riding a motorcycle both with qualified instructors.
New to the session was the 'seat belt sledge' which simulated a head on crash at 30mph. Students were given the opportunity to 'ride' the sledge twice and on the second time wore 'beer goggles' which gave them the sensation of being at the drink drive limit, making them lose all sense of direction and unable to judge things properly.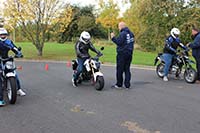 Mr Richard Eaton from the Safer Roads team said 'The seat belt sledge and beer goggles highlight to the students how important it is to wear a seat belt and to never drink and drive or get into a car with someone who has been drinking. Driving is not an easy thing to do and when you have been drinking it effects your judgements and the goggles are a great tool to help us show the students exactly what it feels like.
'The road safety course is extremely important as we need to educating students as early as possible. People think you learn to drive at 17 but you actually learn a lot younger when you are in the car with your parents. It gives students the awareness to make informed choices about whether to drink drive or get into a car with someone who has been drinking.'
A total of three motorcycles and five dual controlled cars with local driving instructors were at the school over the two days to help students achieve a better understanding of both driving and riding and also gain a greater awareness of the causes and preventions of crashes.
Head of Sixth Form Mrs Nina Smith said 'When we offered Sixth Formers the chance to take this course at the start of the year it was so successful that we wanted to hold it again but decided to offer it to our Year 11 students as we wanted to target them before they have any driving experience at all and to ensure that their first experience is from the police and approved driving instructors.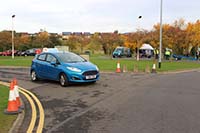 'As well as the cars and motorbikes they also had a safety session on pushbikes and electric bikes so every mode of transport was covered. Students need to make informed choices about how they travel to school rather than just relying on parents as this increases the traffic and the danger around the school grounds. This gives them options to travel to school independently and safely and is a way of introducing them to local driving instructors that are highly recommended by the police that they can go on to use themselves if they want to learn to drive.'
Year 11 student Courtney Mountford said 'I wanted to take part in the road safety day because I thought it would be exciting and fun. When I had the beer goggles on I couldn't see properly so found it very hard to put my seat belt on which has highlighted to me how important it is not to drink and drive but also not to get into a car with someone who has been drinking.'