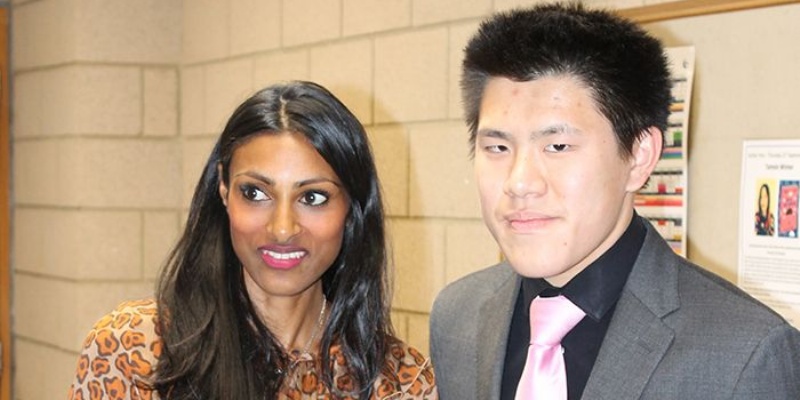 Mechanical Engineer and Fluid Dynamicist Dr. Shini Somara was the guest of honour at our 2017 Prize Giving where she spoke about the importance of empowering girls to be successful and inspiring others about the magic, importance and difference science, technology, engineering and maths (STEM) can make.
She handed out hundreds of prizes to students from across all the year groups and the event was interspersed with musical performances from Olivia Miller, Winston Ho, George Tysoe and Isabelle Hall who played together in a String Quartet, Rana Williams who sang a solo and Simba Chikoto who played piano on arrival and exit of the event.
During the evening, Associate Principal Pete Kirkbride and Chair of Governors Phil Harris-Bridge both paid tribute to our founders, Hugh de Capell Brooke and Garfield Weston and Mr Kirkbride made special acknowledgment to five members of staff; Annette McIntyre, Pat Hogan, Trish Stringer, Karen Hearne and Jim Gillespie who have each served 25 years at Brooke Weston since the school opened it's gates in 1991.
The audience comprising dignitaries, trustees, governors, parents and students saw a video review, that was produced by two Sixth Form students Katie Proctor and Millie Oakerbee and showcased all of Brooke Weston's highlights from the 2016/2017 academic year.
Special mention must go to the 21 students in Year 11 who between them achieved 23 9 grades, 120 A* or 8 grades and 63 A or 7 grades this summer. A group of 20 former Sixth Formers who between them achieved 27 A* or equivalent grades and a minimum 164 points (an A grade on average) also received awards.
Associate Principal Mr Pete Kirkbride said 'Tonight has been another fantastic evening at Brooke Weston Academy celebrating the amazing success of our students. I am now into my second year of headship and I really feel a part of the Brooke Weston family; a family that inspires ambition, determination and success for all students which this evenings event has clearly shown.'
Thank you to everyone who so generously donated prizes for this year's recipients, including the de Capell Brooke family, Hays Recruitment, APS and Kanda Print Midlands Limited 
as well as those who worked so hard to ensure the event was a success.
Special Awards were as follows:
| | |
| --- | --- |
| Hays Business Student of the Year | Daniel Browne |
| Year 7 Outstanding Student Award | Louis Brereton |
| Year 8 Outstanding Student Award | Oliver Hackett |
| Year 9 Outstanding Student Award | Amelia Sulch |
| Year 10 Outstanding Student Award | Rajan Khunti |
| Year 12 Outstanding Student Award | Nashane Pitt |
| Outstanding GCSE Student Award | Winston Ho |
| The Hugh de Capell Brooke Award | Ross Ward and James Walker |