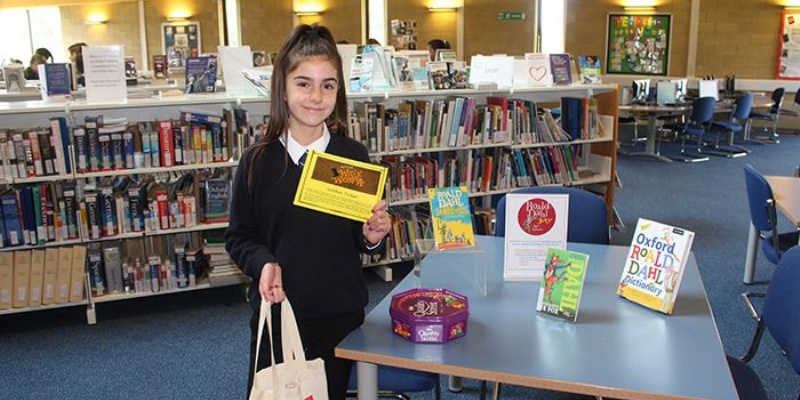 Brooke Weston celebrated the birthday of Roald Dahl, the world's number one storyteller, with several activities and competitions held in the library.
Year 7 students were invited to the Library to find one of twenty Golden Tickets that had been hidden. The lucky ticket holders were rewarded with 'scrumdiddlyumptious' chocolate and if they managed to answer the Roald Dahl question on the back of their ticket were entered into a prize draw to win even more 'gloriumptious' prizes. Year 7 student Erin Andrew was the lucky winner of the prize draw and was presented with a bag of books and a tub of sweets. She said 'I was really happy that I won. It was lots of fun to find the golden tickets I found two but I gave one to my friend. It helped me become more familiar with the library and where to find things. When I was at Primary school we did a topic on Roald Dahl and I love his books. My favourite is James and the Giant Peach.'
Librarian Ms Wendy McCabe said, 'It is wonderful to be able to take part in celebrating the birthday of Roald Dahl who has thrilled and inspired generations of children and their parents with his stories. It is important to keep his stories alive and keep the children interested reminding them how important he was in the world of books and literacy. The competitions and activities were also a good way to introduce the new Year 7 students to the library.'
Brooke Weston Literacy coordinator Mrs Fitzjohn also launched a competition to 'Be more Dahl…' and has challenged students to create a story that is only six words long. The final competition from the day was 'Invent a Sweet and Design a Marvellous medicine' competition. Entries for both competitions need to be handed in by Friday 22 September. For more information please contact Ms McCabe in the Library.