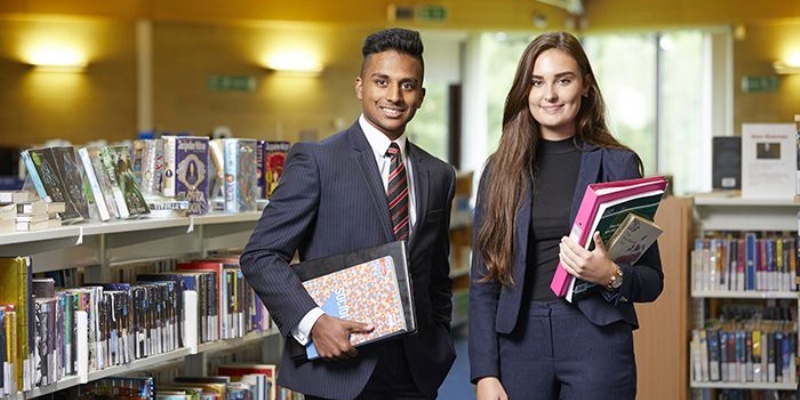 Shehan Retnasingam and Liberty Luck have recently been appointed the prestigious role of Brooke Weston's new Head Boy and Girl, selected from a number of applicants that applied.
Liberty, who had always wanted to join Brooke Weston, applied in Year 12 and was thrilled when she was accepted into the Sixth Form. She said, 'I've always wanted to come to Brooke Weston, in my mind it has always been the top school in the area and one that I have wanted to be a part of. I didn't get accepted in Year 7 but I was determined I would be accepted in the Sixth Form.'
Liberty is studying maths, business and psychology and AS German. She has applied to study economics, finance and business at university in Italy and has also been looking at Degree Apprenticeships within big retail companies in the UK. She works at a local bridal company in her spare time helping to manage every aspect of the business including the social media.
'I applied to university in Italy because I like to try different things, love travelling and have always wanted to live abroad. I'm quite independent so I think I would relish living away from home. Working in a bridal shop has given me a greater understanding of how a business works which I think will be a fantastic help in the future.'
As Head Boy and Girl Liberty and Shehan will work together with the deputies on faculty link, ambassadors, events and fund raising committees.
Liberty said: 'As I am an external student and came from a different school I have seen practices that have worked and some that haven't so I wanted to help enforce those here. I want to be able to help out with the school and improve as much as I can for the students.
'I've always been on the student council and a form representative, I'm confident and like talking on behalf of others and helping them to voice their opinions. We are planning social events for the sixth form and have ideas about the Prom, there are also ideas that have come up in student council meetings that we want to reinforce.
'I was shocked that I was chosen for Head Girl and I am extremely thrilled and excited to be able to represent the students and the school.'
Shehan wasn't happy at his previous school and got accepted into Brooke Weston in Year 9 after applying every year since Year 7. He said 'I moved here because I wanted to get better grades as the school I was at didn't have a good exam history. I liked the atmosphere straight away, teachers at my old school couldn't control a class but it's different here the teachers are always in control and there is a good learning environment, which I like. I've always gone for new challenges and opportunities; form representative, presenting, so it seemed only natural for me to apply for Head Boy.'
Shehan has lived in Kettering his whole life with his two brothers and sister. He is studying maths, further maths, physics and an AS in further additional maths and chemistry he has applied to Oxbridge to study maths.
'I really enjoy maths and Oxford and Cambridge are the top two places to study. I've visited both and I really like the environment, they have an aura of prestige. When I go to university I just want to do as much maths as possible. The maths course has an extremely intense structure but I like that style of learning and think it will work well for me.'
Shehan's love of maths saw him help tutor a group of Year 11's through their further maths GCSE and as Head Boy he hopes to enforce Oxbridge to students at Brooke Weston.
'I enjoyed further maths through GCSE and almost none of the rest of my class did so I wanted students in the year below to have a better experience and see it how I saw it.
'I personally want to enforce Oxbridge because it is relatively new at Brooke Weston. In the past there would only be a few students that would apply but recently we had six people get accepted and I think that has shown that it is more accessible than people think. I have become more motivated to apply and I want to ensure that people I know who are capable of getting in, do and they learn from my mistakes in year 12 and make sure they get it right. It is about giving back.
'My advice to the new Year 12 students would be to take the year seriously from the beginning because if you keep up a vigorous structure throughout the year once you get to the exams you will be more relaxed because you have been used to the work load.'
Congratulations to both Liberty and Shehan on their appointments as Brooke Weston Academy's Head Girl and Boy. They are hard working and conscientious and together with the deputy Head Boys and Girls will make a real difference to school life.