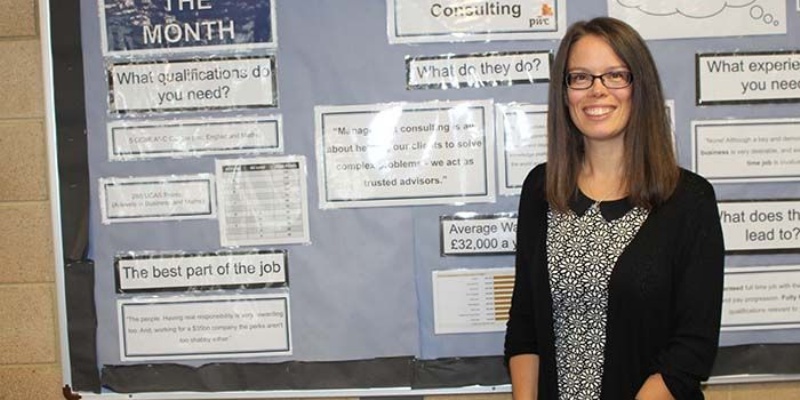 Welcome to Mrs Clare Scott who recently joined Brooke Weston having worked as a careers advisor within schools for more than 14 years, bringing with her a wealth of knowledge and experience of working with young people.
Clare always wanted to work with children but didn't want to teach and after extensive research decided to become a careers advisor and hasn't looked back since. She said, 'I love seeing students going from having no focus, which can effect their motivation and academic success, to realising that there is a route to where they want to go. You meet a range of students in my role; those who will have a very clear idea of what they want to do and probably only need a little bit of information, those that have got a bit of an idea but don't know how to make it a reality and those that have got no idea at all. So you never know what sort of student you are going to see next and how you are going to be able to help them. It's always a challenge and you never have the same two people and that is what I love about my job.
'So often adults say to me that they didn't have a careers advisor or their careers advisor told them that they couldn't do what it was they wanted to do and squashed their dreams and I think that is really sad. So I have made it my life's work to make sure that I don't crush peoples dreams but that I try to get them to be realistic about what it is they are aiming for so they understand the opportunities that are available and how they might fit into that without saying you can't do that because who am I to say that someone can't do something. It's much more about understanding the reality of what it is you are heading for, how competitive it is or how difficult it might be to enter and then working out where and how you can fit into that.'
Clare trained as a careers advisor in Wales and moved to Leicestershire shortly after she finished her degree where she lives with her husband and two daughters and spends her free time training to become a Rainbows and Brownies leader, swimming and fund raising for her daughters' school. 'I'd never heard of Brooke Weston before I applied for this role and it hadn't occurred to me to look out of county for a position but I looked at the school website and got a good feel for the place and when I came for my interview and spoke to the staff here it made me realise that this is an amazing school that cares about their students and values the importance of giving good careers advise as something that is fundamental which made me think I want to be part of that.
'Brooke Weston has a special feel to it and because I work within the school it allows me to be able to form relationships with the students, staff and parents which is critical as you need to know your students, understand them and be on their wave length. If you haven't got that you can become a bit lost.'
Clare already has a clear idea of what she would like to bring to the role and how she wants to communicate and form relationships with the students. 'I plan on running a careers event inviting local employers and training providers in to speak to students and parents directly so they can gain a complete understanding of the many different options available. I am also looking at how I can add to the Extended Tutorial Programme, creating career-related sessions for tutors to deliver.
'Mostly I want to communicate to the students that they can come and speak to me or send me an email whenever they want to, my door is always open. I am approachable and will always offer them 100 per cent of my support to help them decide what they want to do in the future.'
If you would like to arrange a meeting with Clare you can find her office located in top science or alternatively you can send her an email.