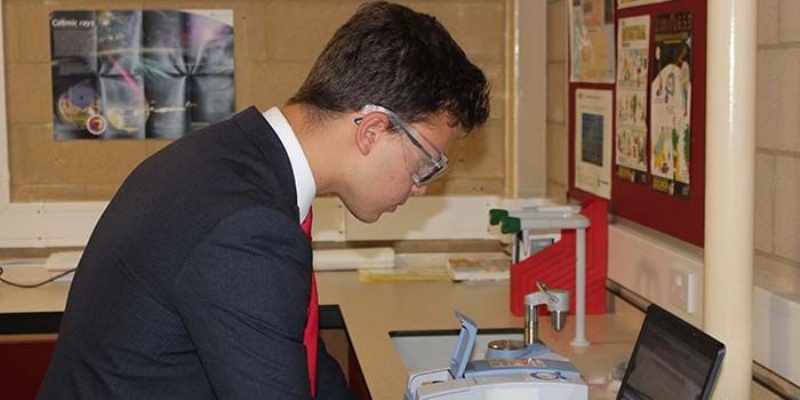 Year 12 students were invited to take part in a practical chemistry workshop run by The University of Leicester based around Spectroscopy using an infrared spectroscopy worth more than £17,000.
The workshop was set in the context of a murder mystery, and students had to decipher which chemicals the victim was working with and what medicine was found on him as well as looking at witness statements to try to identify the murderer.
They used the infrared spectroscopy to analyse what functional groups might be in the molecule and a mass spectroscopy to try to work out the structure of the molecule.
The workshop is part of a national project sponsored by the Royal Society of Chemistry and has been delivered throughout the UK. Tracy McGee from the University of Leicester has delivered 55 workshops across the East Midlands, she said 'The RSC has sponsored these workshops so that we can bring this topic alive for the students. To do this out of a text book can be quite dry but to actually run your own samples and do the hands on part to interpret the results is really engaging for the students. We invest a lot of money in the instruments because chemistry is the study of molecules and these machines help to give us a lot of information about them.'
Year 12 student Julienne Padayachy said 'It's fantastic to be able to use this equipment as we wouldn't normally get that opportunity in school. You get instant feedback and get to use your own results rather than what you have in a text book. I feel like I can understand it better as we are doing it ourselves and I understand things through practical work so this makes a lot more sense. '