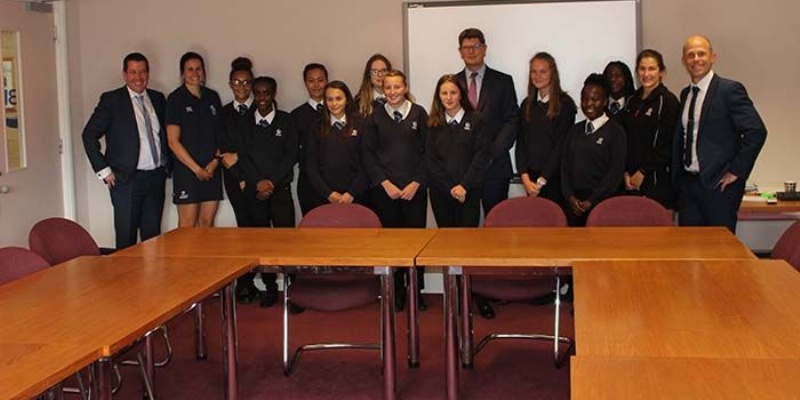 Brooke Weston Trust's CEO, Dr Andrew Campbell, visited Brooke Weston Academy on the last of his tours of all the Brooke Weston Trust schools. He spoke to students and staff about all aspects of the academy and visited a range of classrooms.
Associate Principal Mr Peter Kirkbride and Vice Principals Mr Simon Underwood and Mr Shaun Strydom welcomed Dr Campbell, along with the newly appointed Head Boy and Head Girl, Shehan Retnasingam and Liberty Luck who discussed their roles and plans for university.
Mr Kirkbride escorted Dr Campbell visiting classrooms where they saw students taking part in scientific experiments and Sixth Formers discussing their subject options for the next academic year.
Dr Campbell and Mr Kirkbride discussed changes planned for the corridors and classrooms including the installation of Clever Touches and new display boards.
He visited the Weston Theatre where best-selling novelist Dan Freedman was talking to students about his career and together they presented medals and trophies to the winners of the Year 7 Premier League Reading Challenge.
Dr Campbell visited Performing Arts where he met some of the cast of the recent production of Grease . He asked what they enjoyed about taking part, congratulated them on a fantastic show and spoke about how it gave the momentum to step forward with Performing Arts.
He spoke to Mr Darren Hooper, who leads the Duke of Edinburgh Scheme and members working on their Bronze award who recently completed their first expedition near Rutland Water. They discussed the many benefits of completing D of E for future employers.
Dr Campbell then met our new newly qualified teachers (NQTs), discussed their work and outlined the benefits of belonging to a wider group of schools which leads to increased opportunities and collaboration.
Finally he met Sports Leaders from Year 9, and learned that their role builds confidence, patience and that they help primary schools develop the sports that they offer to their students.
Dr Campbell said 'It's been a wonderful afternoon meeting some very inspirational staff and students around Brooke Weston Academy. I'm truly impressed by the level of ambition and the dedication of the staff I've met and I particularly enjoyed seeing so many boys being congratulated for reading.'