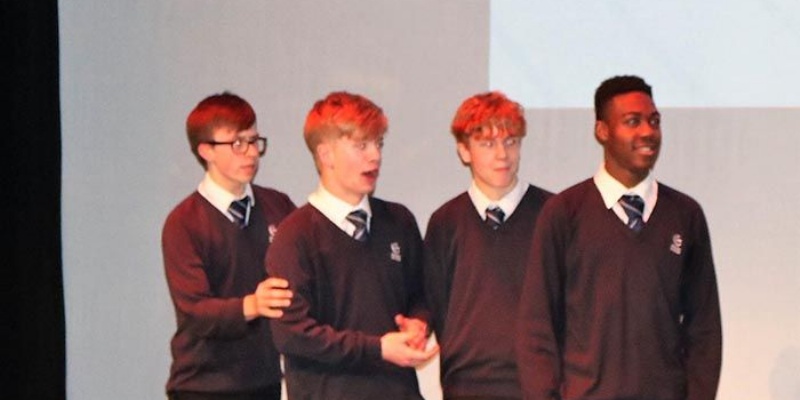 Congratulations to our amazing students who won awards at the Brooke Weston Trust Sports Award Evening.
Hania Mazur was named Brooke Weston Trust Leader of the Year in KS3, Sophia Shorrock was named SportsLeader of the Year in KS4, Annabel Thompson was named Sportswoman of the Year in KS3 and the Year 11 Futsal team was named as BWT Team of the Year for KS4. We also won Sports Festival for Year 7 and 9, U-14 Rugby and U-14 Cricket.
All three guests presented the winner's with their trophies. Hania's nomination read: 'Hania is an outstanding leader who rises to any occasion she is involved in. She is not only committed to personally develop her own leadership qualities and knowledge across a range of sports but she guides and supports others around her to do the same. Her mature approach to any leadership task has resulted in Hania leading a group of 20 leaders from Brooke Weston for a Sports festival ensuring roles and responsibilities were properly performed.'
Sophia's nomination read: 'Sophia is a dedicated and committed individual willing to involve herself in a range of leadership opportunities. Sophia uses her leadership qualities in Brooke Weston to run successful festivals and ensure that any young or old participant has a memorable and enjoyable time. Her depth of knowledge across sports is outstanding.'
Annabel's nomination read: 'Annabel since the start of Year 7 has always shown a keen interest in sport. She has represented Brooke Weston in a variety of sports such as netball, basketball and sportshall athletics. Alongside this Annabel has been training for motorsports. She trains in the gym twice a week and trains on her bike every Tuesday and every other weekend. In the last year she has won the British Winter Championships and was voted one of the top 10 riders in the British Championship.'
The Year 11 Futsal team's nomination read: 'This team won the District Championships and qualified for the regional finals which was held in our March holidays. The team showed their commitment by competing and winning this qualifier for the Midlands Championships in Derby in June.'
The evening was a great success, organised and hosted by Thomas Clarkson's PE teacher Kirstie Smith, who is the Trust Director of Sport. Well done to all of our sports students - we are very proud of you!