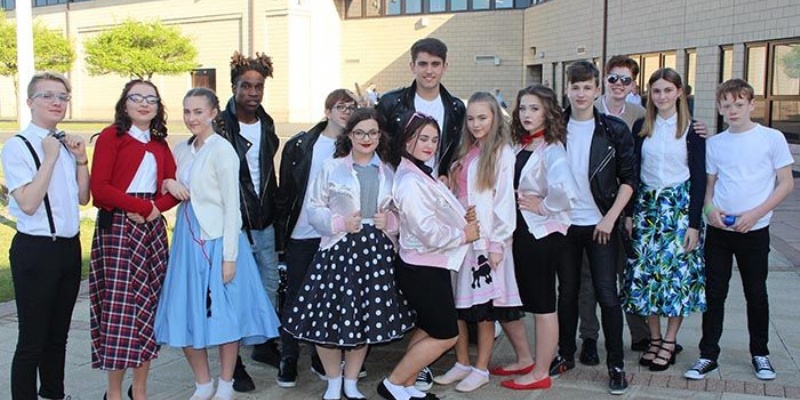 After weeks of dancing, singing and acting rehearsals students put all nerves behind them to perform their first night of 'Grease' to a packed out Weston Theatre.
Students from all year groups auditioned for the show in January and have worked together acting, singing, and dancing and assisting back stage with directing, managing, choreography, and costumes.
The Weston Theatre was transformed into Rydell High for the show, complete with a 1950's Chevrolet Belair outside the Academy, which the audience were invited to have photos in.
Head of Performing Arts Ms Dawn Willis said 'The first night has been fantastic. Everyone involved in putting this performance together has been amazing. It has been a complete collaborative project involving a huge number of people. The dedication from everyone has been phenomenal, rehearsing three nights a week for 16 weeks and giving up days over the weekend and in the holidays. It has been lovely to see how well the cast have bonded with students from all year groups, working together and supporting each other. I am extremely proud of all of them.'
Associate Principal Mr Peter Kirkbride said 'Brooke Weston Academy is known for its outstanding examination results, but the Academy represents so much more than academic success. This production of 'Grease' is a perfect example of the rich and varied experiences that we offer our students. The show encompasses some of the very best aspects of our school – outstanding teamwork, high energy and lots of passion! I am incredibly proud of all of the staff and students involved.'