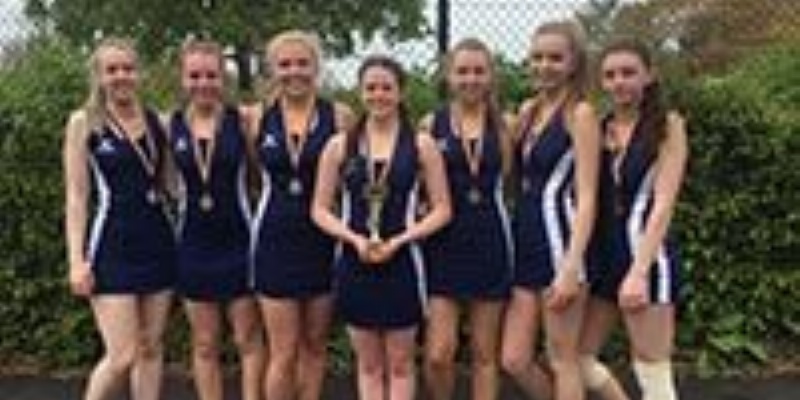 The Year 10 and 12 girls netball team were invited to take part in a two day tournament at Condover Hall in Shropshire where the Year 12 team succeeded in winning the entire tournament.
Games lasted for 20 minutes, 10 minutes each way with a quick one minute turn around in between. Both teams only had seven players which meant they had no substitutes and played in the same league as each other due to other teams pulling out of the competition prior to the weekend.
Year 10 started the tournament with some very tough games including one against our own Year 12 team, however, both teams showed huge support to each other applauding when either one of them scored. The girls tried their hardest and continually swopped positions during their games to get the best out of the players and although they managed to score lots of goals they weren't successful in winning any of their matches that day.
Year 12 had a different experience and after a shaky start their nerves settled and they went on to win every single game on Saturday and although they felt tired won their last game of the day 35-0, with Freya Marlow and Amber Lincolns rarely missing a goal.
The tournament was spread over the weekend and mixed with some down time where the girls were able to take part in various activities such as rock climbing, zip wire and high ropes, where some of them had to push themselves out of their comfort zone to overcome their fear of heights.
Both teams went into Sunday feeling positive and even though the Year 10 team didn't win on Saturday they were even more determined to win a game on Sunday. After a good warm up session and motivational talks they were ready for their first game. The girls played brilliantly and at half time were winning 8-0. Valerie Ferenando and Sophia Shorrock were amazing in defence getting a lot of tips and interceptions. The overall score was 14-3 to Brooke Weston. The girls were buzzing from their first win and took that onto court for their next game, which they knew would be difficult after watching Year 12 play them on Saturday. Throughout the game it was goal for goal but the girls were determined to win putting pressure on every pass and succeeded, the end result 9-8 to Brooke Weston.
The Year 12's continued their winning streak during the Sunday matches winning all of their games and making it through to the finals against a team they had previously beaten. The girls were extremely nervous but played brilliantly, each of them working cohesively as a team. Danielle Olechnowicz was amazing in Goal Defence, the Goal Attack on the opposing team was their best player and barely touched the ball. The end score was 12-4 to Brooke Weston meaning they had won the entire tournament.
PE teacher Miss Marsh said 'I am overwhelmed with how well the girls did. Both teams worked brilliantly together and demonstrated respect and sportsmanship at all times. They played amazingly well throughout the tournament and I am over the moon that Year 12 won, it was so well deserved. Both teams have done Brooke Weston proud and it has been a fantastic weekend. I would like to give a special mention to Maddie Phillips and Charlee Broad who had not really played much netball before this weekend but really stepped up to the mark and played their hearts out, well done to all of the girls for their hard work and determination.'