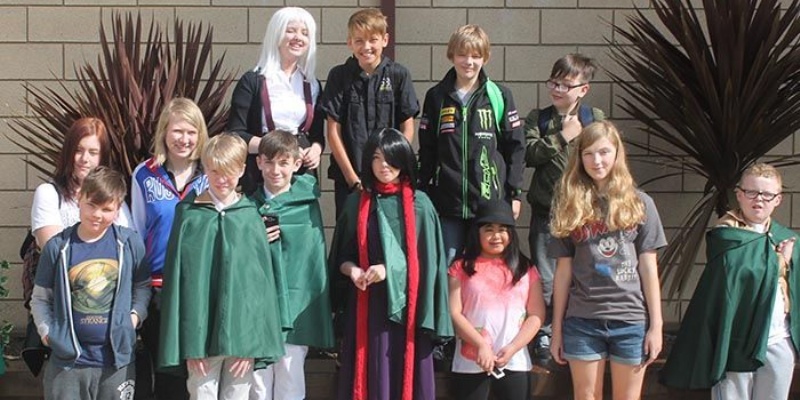 Students from Brooke Weston attended the annual Comic Con convention at Athena in Leicester where they joined in the celebration of comics, TV shows, films and video games.
A big part of the event is people dressing up as their favourite characters which is known as 'Cosplay'. Our students joined in and dressed up as various characters including 'Attack of the Titan' and 'Poison Ivy.'
During the day students were able to enjoy a retro gaming zone with two giant Gameboys, a Jedi lightsabre training academy with Star Wars props and Storm troopers, a Jurassic Park jeep and Pete the dinosaur. There was also an appearance by the UK Negan from the Walking Dead series and the opportunity to meet real life comic artists and buy memorabilia.
Librarian Ms Wendy McCabe said 'Some of the Year 10 girls run a graphic novel/comic book club in the library on a Friday during first tutor time/assembly at 10.05 so we decided to organise the trip to Comic Con. It was a very popular trip which the students thoroughly enjoyed and it was lovely to see them all dressed up as their favourite characters.'
Year 10 student Katie Preston said 'Comic Con was very cool because whatever you are into there was someone else into it as well and you don't usually get that. It's kind of like a cultural thing and it doesn't age.'
Year 8 student Callum Slattery said 'I wanted to go to Comic Con because my sister went to Hyper Japan and I've always wanted to see what conventions were like. I wanted to go to one and dress up so that I would be able to fit in and know that I'm not different from other people and be able to buy memorabilia. It was a fantastic day.'