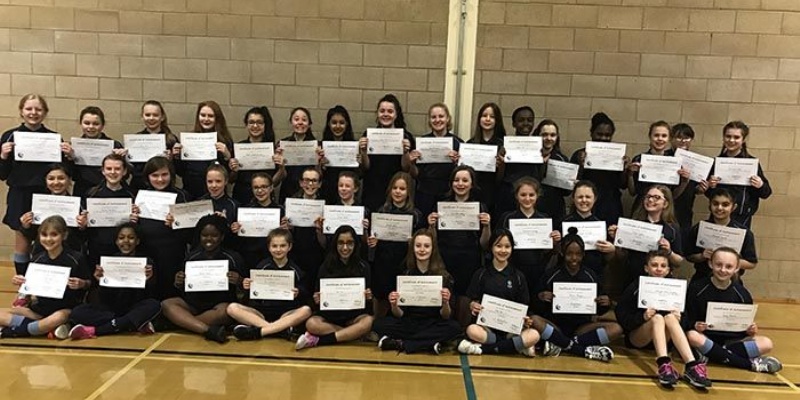 Year 7 girls have been working towards their Brooke Weston Leadership Level 1 Award during their PE lessons and have all been successful in completing the course.
The Leadership unit takes place over a three week period and is designed to help the girls understand sportsmanship, teamwork and fair play so that they can make friends with students they don't normally work with. It also allows students who are not as physical to demonstrate their qualities in leadership.
The content of the course was based upon the students learning verbal and non-verbal communication, organising an event, teamwork and being a role model to others. Throughout the unit the girls showed enthusiasm and a willingness to take part in all of the games, which included a range of activities that taught them the requirements of being a good leader not only for PE but also throughout the curriculum. The most popular activity was 'The Spiders Web' where they had to find a way to get through the web without touching the string and not reusing the same gap in the web. They were fantastic at this and the commitment to each other's safety was excellent.
PE teachers and Year 7 Leaders Miss Barber and Miss Marsh said 'The Year 7 girls are an exceptional year group who want to play or be involved in as much sport as possible. Throughout the unit the girls maturity and leadership really developed and it was great to see the upcoming sports leaders and performers throwing themselves into new challenges. We hope that many of these new Brooke Weston Leaders will apply to become a Sports Leader in Year 8 to continue to develop the skills they have learnt.'