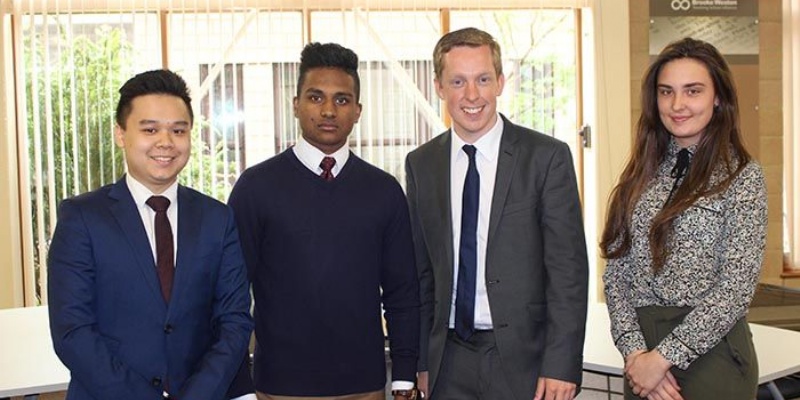 Corby's parliamentary Conservative candidate, Tom Pursglove, visited Brooke Weston Academy to speak to Sixth Formers about how to become a politician and why voting in the general election is so important.
Tom gave a talk to Year 13 students and answered tough questions on wide ranging issues such as tuition fees, national security, representing Corby, taxation, energy and Brexit. He said 'I think that the decisions that we make in general elections are hugely important for the future of the country and I would encourage all young people to get out there and cast a vote. Listen to the arguments in the next few days and take part in this democratic process because the way that you have your say is by getting out there, being involved and having your vote.
'Voting for the first time is incredibly important and exciting. We are facing challenging times and the choices we make in this election are crucial to the future of the country and the direction we want to go in. The election is hugely important for Corby as we need to see sustained economic growth, more jobs, more opportunities and strong public services, to do that you need a strong economy.'
Tom went to a comprehensive school in Wellingborough and became interested in politics when his local MP came in to to give a talk to his year group. At 18 years of age he became the youngest councillor in the country and became Corby's Conservative MP in the 2015 General Election.
I was lucky because my passion was always politics. I studied politics at Sixth Form and went on to university in London and gained lots of work experience, particularly in Westminster working for Members of Parliament. 'I think it is really important that younger voices are heard as part of our political debate. I feel incredibly privileged to have been the local MP for two years. It is an enormous honour to be able to stand up in the House of Commons and raise local issues and concerns and be able to make a difference.
I would advise any students interested in politics to get out there and go after it. I'm a working class lad from Wellingborough who had a dream to become elected in Parliament. Go after your ambitions and dreams as you really can make a difference.'