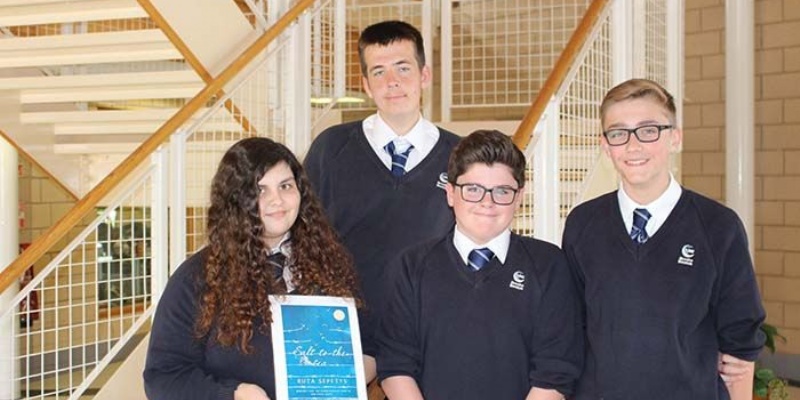 Students at Brooke Weston were fortunate to be able to Skype with award winning author of 'Salt to the Sea' Ruta Sepetys, where they were able to ask questions about her book and life as an author.
Only a limited number of schools were able to speak with Ruta who was Skyping from Nashville, Tennessee and Brooke Weston were selected as one of the lucky few.
Ruta's book 'Salt to the Sea' is shortlisted as one of the final eight titles in The Carnegie and Kate Greenaway Children's Book Awards awarded by children's librarians and is based on a true story from the Second World War about the sinking of the German ship the 'Wilhelm Gustloff'. It tells the fictional story of four young people desperate to reach the ship, which she decided to write about after discovering that a cousin of hers would have been on board were it not for a last-minute change of decision that saved her life.
Librarian Ms Wendy McCabe said 'Talking to Ruta via Skype was a wonderful opportunity for the students to talk to an author who is located in a different country. Skype interviews erase the barrier of location when an author can't physically be somewhere and gives the students the chance to ask questions in an environment with a much more personal feel to it.'
The interview was projected onto a big screen and each student asked their own question, including, how and why she chose her characters, why she wrote from four different points of view and how she felt when her first book was rejected. Year 9 student Oran Brennan said 'I feel like being able to speak to a real life author is an amazing experience especially as she was Skyping from America. I read a lot so it was very interesting to find out how the process of writing a book happens from start to finish.'
Year 9 student Cleo Maton said 'After watching a short film about her book in our English class I was intrigued to find out more about the book and where she got her ideas from. I read a lot so it was interesting to see how an authors mind works.'
Ruta writes about hidden stories in history and spent more than three years researching for 'Salt in the Sea', where 9,343 people died on board the ship. The book has been so successful that Universal Studios have now bought the rights to turn it into a film.