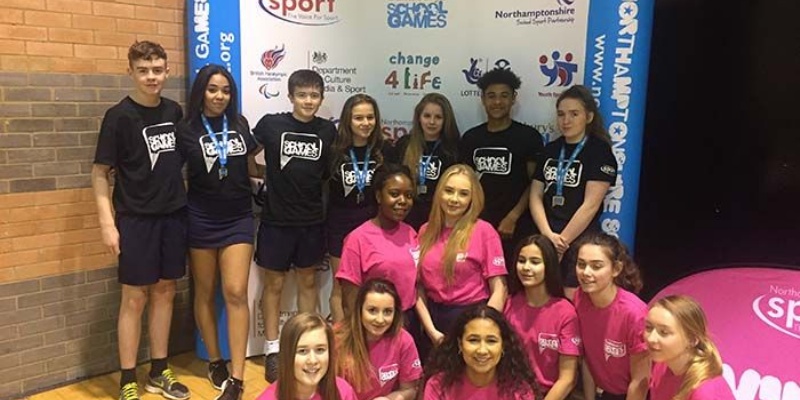 Our Year 9 and 10 boys and girls volleyball teams attended the Winter Games finals in Kettering and succeeded in coming fourth and second place respectively.
The Northamptonshire School Games is part of a national programme of competitive sport that is open to all young people in every school across Northamptonshire. It is a celebration of sport that involves young people from 5-18 years, of all abilities and backgrounds.
The boys; Alex Hodgkinson, Evan Clark, Sam Parker and Harry Gardner won two of their games and lost one taking them to their last game against Northampton School for Boys which would determine whether they would win a medal. It was point for point throughout however Northampton School for Boys managed to win 2 sets to 0 meaning Brooke Weston boys finished in fourth place having played some of the best volleyball they have ever played.
The girls; Elsa Bevillard, Megan Piper, Linda Krasniqi and Grace Kavanagh played fantastically and were on form from the start, taking control of their games and winning all of them culminating in the final against Campion to determine the gold and silver position. It was the closest game of the day and nothing separated them, but Campion just edged the girls out after they brought back 5 points in a row resulting in Brooke Weston girls taking second place in the tournament and winning the silver medal.
PE teacher Ms Jodie Barber said 'Volleyball participation and Volleyball leadership is growing rapidly at Brooke Weston and we have so many students wanting to take part. It is a sport, which can be accessed by all ranges of abilities, and to have a selection of students playing in the finals of the school games is a great position to be in. I am so proud of both the boys and girls teams that participated, both were outstanding and their confidence, skill and technique progressed throughout every game. Sportsmanship and fair play was evident from each student and leadership in each team was superb.'
Alongside the volleyball tournament Brooke Weston also had a number of year 10 students officiating the Primary Sitting Volleyball tournament. The students who were at the event are all part of the England Volleyball Leadership Academy and had been personally requested by Volleyball England's Matt Peleszok who is in charge of the Corby, Oundle and Thrapston District. He said 'The students were absolutely fantastic; they officiated the matches excellently and displayed a great level of professionalism throughout the day. I am very proud of them, as they should be of themselves. These students have really developed over the past two years that I have worked with them and I think there are a few students that would make very good Volleyball England referees and officials in the future.'