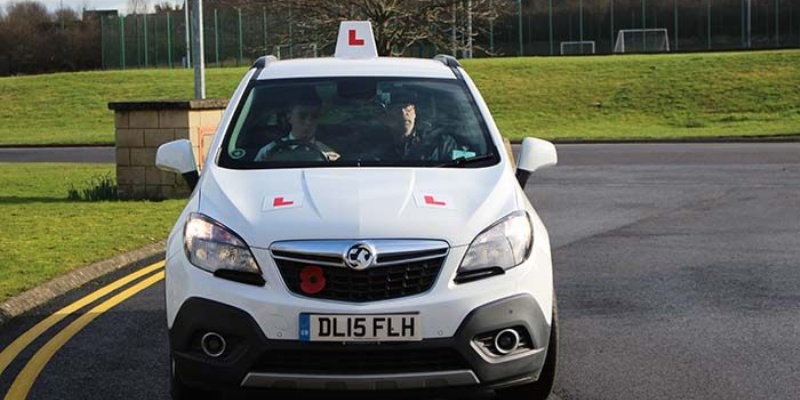 Students in Years 11 and 12 who are interested in experiencing driving a car or riding a motorbike for the first time were invited to take part in a three hour taster session held in the school grounds this week.
The event, which has been organised by Northamptonshire Highways, working with the Motorcycle Industry Association and Northamptonshire Police, will see more than 270 students take part in an hour of classroom education, an hour driving a car and an hour riding a motorcycle both with qualified instructors.
The sessions are a pilot scheme and if successful will be offered to all secondary schools across the County. Northamptonshire Highways Keith Millard said 'We chose Brooke Weston to trial the scheme as I have been involved in a number of educational presentations here and the space and environment the school is in is the perfect setting for the sessions. We are working together with the MIA to try to help students prepare for when they become drivers and highlight the effect drugs and alcohol can have on them. We also point students to accredited training to empathise the importance of quality lessons.'
Councillor Ian Morris, county council cabinet member for transport, highways and environment, said 'The sessions are a fantastic opportunity for students to be able to drive a car or motorbike for possibly the first time in a safe and controlled environment. By instilling good habits in a positive way the sessions will help students understand what constitutes good driving and riding, which is obviously hugely beneficial for when they start taking lessons on the public highway."
A total of three motorcycles and five dual controlled cars with local driving instructors will be at the school over the three days to help students achieve a better understanding of both driving and riding and also gain a greater awareness of the causes and preventions of crashes.
Associate Principal Mr Peter Kirkbride said 'This is an extremely important and exciting topic for students to be educated on and one that will be particularly valuable to them. Our involvement with Northamptonshire Highways and the MIA is fantastic and Brooke Weston are privileged to be the first school to trial these sessions which I am sure will be an enormous success and something all secondary schools will be able to offer in the future.