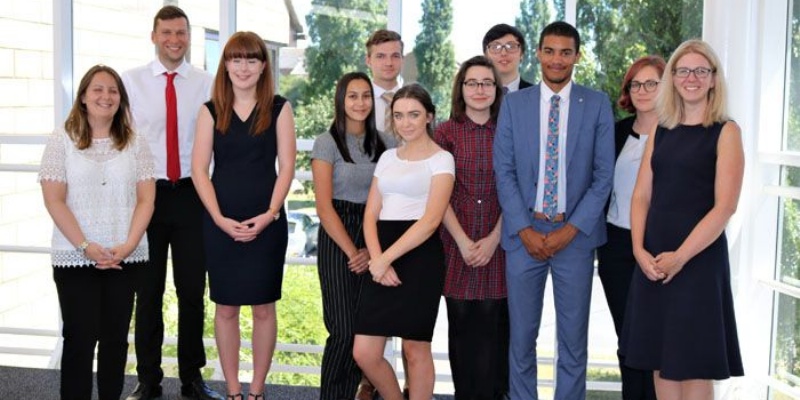 Students from Brooke Weston Academy and Kettering Science Academy are enjoying a bespoke training programme for Sixth Formers who are considering joining the teaching profession.
The 'Future Teachers' programme gives students the opportunity to visit different schools across primary, secondary and special settings. The experience involves lesson observations and opportunities to talk to experienced and newly qualified teachers.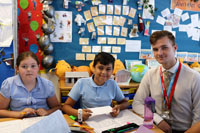 The programme, which is being delivered by the Brooke Weston Teaching School Alliance, was designed by Nina Smith, Brooke Weston Academy's Head of Sixth Form. She said: 'We are hoping to give students a flavour of what it is like to be a teacher so that they can make an informed decision about what they would like to go on to study, and it also makes them aware of the very different routes into teaching and the fact that we all have very varied backgrounds.'
A total of 12 Sixth Formers are on the first cohort. So far they have visited Kingsley Special School in Kettering, and Beanfield Primary School with a final session at Brooke Weston Academy scheduled later this month. Each visit consists of a school tour, classroom observations and an informative workshop at Brooke Weston Teaching School, all led by experienced teachers who can answer any queries the students have.
Sayle Donativo, Brooke Weston TSA co-ordinator, said: 'This is a really informative and carefully balanced programme giving students access to different settings, teaching environments and information. Topics covered include routes into teaching, opportunities for progression, school structures and safeguarding. We have received very positive feedback from students and plan to roll out to more cohorts next year. This grass roots programme is a fantastic way to grow our own talent, help students to achieve their career aspirations and give them the support they need to become the next generation of teachers.'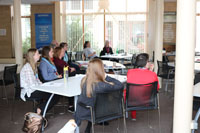 Sixth Former Kurtis Read said: 'It has been really rewarding. I have learned about the differences in a special school as compared to a mainstream one. It has been eye-opening and I have respect for teachers in these kind of environments. It has definitely made me more energetic towards being in the teaching environment. At first I was exploring the possibility but these sessions have definitely kept me on board.'
Tracy Freeman, class teacher at Beanfield Primary School said: 'It has been really lovely to chat to Kurtis and what has impressed me is his passion, he will make a really good teacher and these sessions allow him to experience both primary and secondary phases. The best thing about teaching is the rewards you get from the children, and their appreciation for what you do keeps you going.'
Sixth Former Natalie Quach said: 'I found Kingsley really eye-opening and Beanfield Primary School had a very positive atmosphere. We got involved with maths and literacy with Year 2 students. They were really welcoming. I would love a career in primary teaching.'