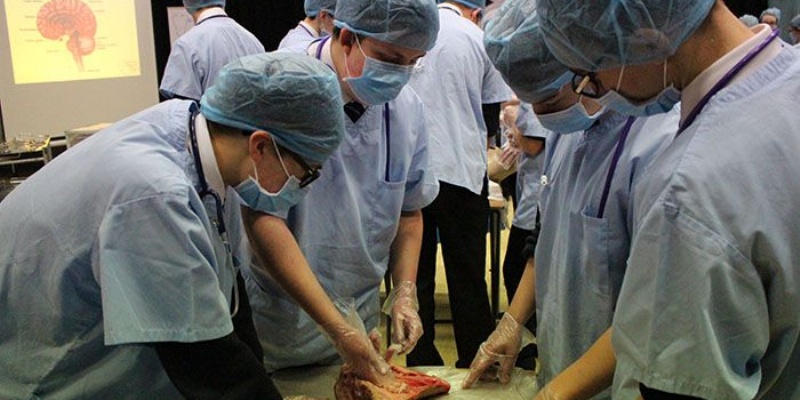 Students from Years 10 to 13 interested in careers in medicine or science attended an Operating Theatre Live workshop where they donned a set of scrubs to dissect simulated body organs and tissues in an operating theatre setting.
The groups dissected pig brains, removed eyes, looked at the lungs' structure and attempted a heart transplant. They also investigated the digestive system and calculated anesthetic dosages. The event is designed to give students as authentic an experience as possible. There was a strong focus on skills and careers providing students interested in medical careers with up-to-date information.
The programme was created by Samuel Piri, a STEM coordinator, head of science and director of teacher training. He studied anatomy and went on to complete his teacher training. He said 'We visit schools, colleges and hospitals all over the country. Everything is curriculum linked and relevant to the students' exams. We use real animal organs and we give students a first hand experience similar to being in a real operating theatre.
'I started Operating Theatre Live because there is a chronic shortage of science teachers and lack of creativity in bringing lessons to life. My main focus, from a teaching perspective, is always about impact, taking what students learn in the classroom and putting it into practice. We also give out information on medical careers so they know what they need to achieve to be able to study the subjects they want. We need to get students to aim high and think big.'
Science teacher Mr Dan Hawksley said 'The workshops were open to students from Years 10 to 13 that have an interest in a medical or science career. We wanted to inspire them and show there are many medical routes to follow. Everyone really enjoyed performing the dissections. It has been extremely rewarding and has opened their eyes to the possibility of a medical career.'