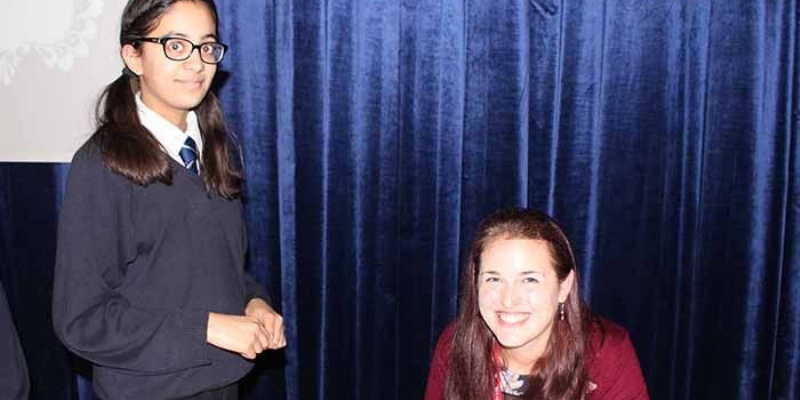 Award winning children's author Katie Dale visited the academy this week to help students develop their writing skills and discuss how to become an author.
Year 7 and 9 students listened to presentations about Katie's journey to becoming an author, took part in quizzes and held discussions about writing. The Year 10's attended a writing workshop, which focused on developing their literacy techniques and emotive language in preparation for their GCSE's.
Inspired by her mum, Elizabeth Dale, also a children's author, Katie has always enjoyed writing stories and her first poem 'The Fate of The School Hamster' was published in Cadbury's Book of Children's Poetry, aged 8. Since then she has gone on to have a further 12 books published, Katie said 'I have written a mixture of fairytale twists, teenage novels, middle grade and early readers, it is a big variety of styles but helps me to keep things fresh.
As well as being inspired by her mother Katie gets inspiration for her books from a variety of places including things that she reads in the news and 80's cult classic films such as 'Freaky Friday.' She said 'I really enjoy coming into schools as I love to meet readers and inspire students. I've always loved finding out what books make children tick. I enjoy seeing their enthusiasm and helping to nurture their love of writing and hopefully inspire them to develop their own styles.
'I think it's important that children get to meet authors as sometimes they can think that they aren't real people. Some of my ideas for books have come from my school days which I think can be inspiring to students to know that what they are doing now does matter and there is a way into writing that is achievable if that is what they want to do.'
One Year 10 student said 'I enjoyed hearing from an actual writer about how they approach creative writing at a professional level. The examples that were shown were different and creative and the new ideas were also very useful.'