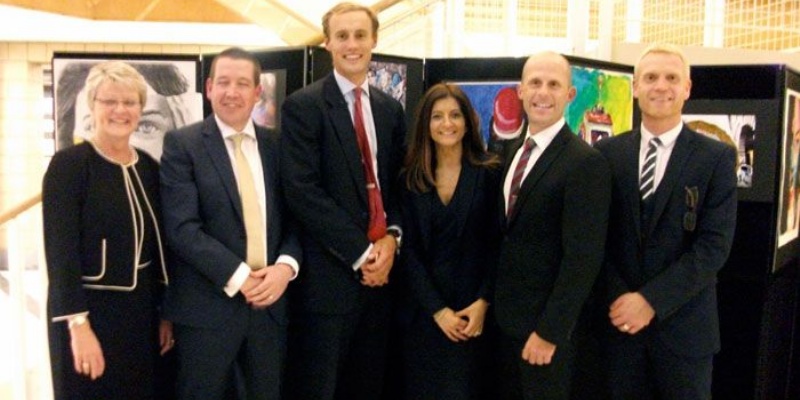 Intrepid explorer and adventurer George Bullard was the guest of honour at our 2016 Prizegiving where he spoke about his latest adventure, kayaking thousands of miles from Greenland to Scotland.
He and fellow explorer Ollie Hicks paddled 1500 miles from Greenland and ended up 66 days later (and just a fortnight ago) on the beach at Balnakiel Bay on the north of Scotland. They travelled via Iceland and the Faroes and navigated the dreaded Devil's Dancefloor before becoming marooned on North Rona for a week, surviving on rainwater and wildlife including limpets and sea birds.
He said: 'I am nothing more than a guy who has been lucky enough to visit some of the most beautiful parts of our planet.' He ended his 20-minute account by telling students: 'If you leave here forgetting everything that I said I want you to remember just this: A stands for ambition. We all have an ambition to do something with our time on this planet, whether that is working in nuclear science, spending time on a kayak in the north Atlantic or becoming the next great Linford Christie, we all have an ambition to do something.
'B is for bravery. Certainly with these projects it takes a little bit of courage to stand up in front of your friends and family to say 'The next thing I am going to do is kayak across the north Atlantic'. You have to have the courage to say 'This is what I am going to do.' Go and do it. C is for Carpe Diem – seize the day. If you are ambitious and brave then remember that today is the day that you take these opportunities.'
He handed out hundred of prizes to students from across all the year groups and the event was interspersed with musical performances from Jesa Padayachy on the flute and Nkara Stephenson who sang a solo.
During the event, which marked the 25th anniversary of Brooke Weston, Associate Principal Pete Kirkbride and Chair of Governors Phil Harris-Bridge both paid tribute to our founders, Hugh de Capell Brooke and Garfield Weston, and the four former Principals of the Academy.
The audience comprising dignitaries, trustees, governors, parents and students saw a video review, that was produced by two Sixth Form students and showcased all of Brooke Weston's highlights from the 2015/16 academic year.
Special mention must go to the 24 students from Year 11, who between them had achieved 92 A* and 94 A graded GCSEs this summer. A group of 17 former Sixth Formers who had each achieved a minimum of 380 UCAS points at A Level (equivalent to an A* and two A grades) also received awards, along with three year 10 students who secured got A graded GCSEs a year early.
Thank you to everyone who so generously donated prizes for this year's recipients, including the de Capell Brooke family, HSBC, OCR and Andrew Pipework Services as well as those who worked so hard to ensure the event was a success.
Special Awards were as follows:
HSBC Business Student of the Year - Laura Keenan
Year 7 Outstanding Student Award – Archie Colwill
Year 8 Outstanding Student Award – Matthew Leer
Year 9 Outstanding Student Award – Emily Brown
Year 10 Outstanding Student Award – Tapuwa Chitiga
Year 12 Outstanding Student Award – Nayan Kumar
Outstanding GCSE Student Award – Lauren Coull and Lydia Pouncey
The Hugh de Capell Brooke Award – Henry Griffiths