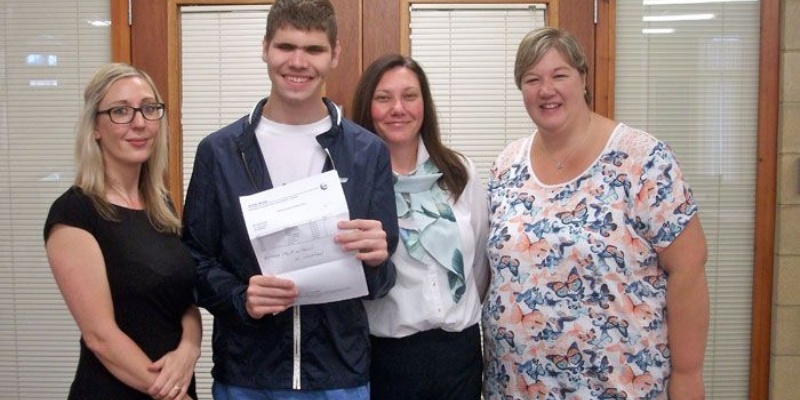 Rajmund Baranyi faced huge challenges to gain his excellent GCSE qualifications of a Distinction in Business, a B in food technology, Cs in English and maths and Ds in science, additional science and geography.
When he started at Brooke Weston, not only did Rajmund have blindness to contend with, but English wasn't his first language. Since joining us five years ago he has had the support of a Visual Impairment team who have accompanied him to lessons and made sure he has all the resources and equipment he needed to learn and take part in practical tasks.
In food technology that meant using aids such as talking scales and measuring jugs, plus tactile markers to show whether the gas oven was turned on or at the correct temperature, although he was very accurate with his cutting and practical skills.
His VI team comprised Jennie Jones, Nickie Mackay and Liz Wootton. Jennie, who is accompanying Rajmund to further studies at Northampton College, said: 'Basically the papers for just one of Rajmund's exams took up the whole of the table in the boardroom annex as they were in Braille. Rajmund has done a lot of work with students in other schools. During the summer he came to work with one of the students at a local school and supported him with his IT, Braille and using the iPad.'
Nickie added: 'Rajmund has done exceptionally well. His first language is Hungarian and he had to have everything in Braille so that took a lot longer. Obviously he had to learn, not only English, but how to read English in Braille.'
Rajmund said: 'I got the results I expected and the results I wanted for maths and English. I had a reader for most of the exams but I also had exams in Braille as well. For food tech the exam was written but for the coursework it was practical. I am now going to do BTEC IT at Northampton College. I want to eventually do something with IT, maybe become a teacher as I have already done some teaching in the past.'