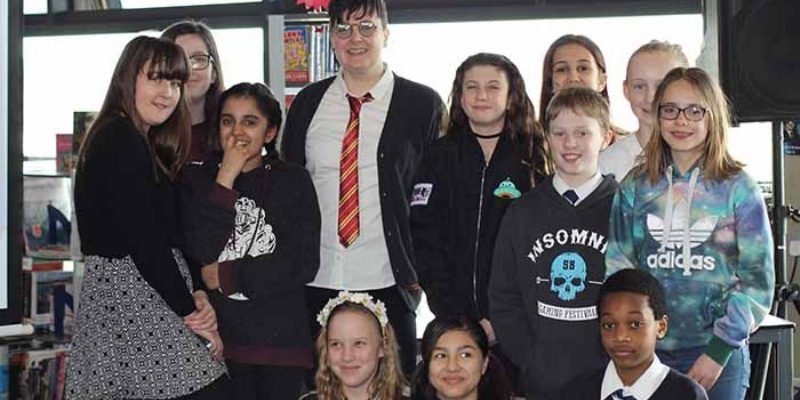 Teams of students from Year 7 and 8 were invited to take part in the first Brooke Weston Trust Big Book Quiz, hosted by Corby Business Academy together with Kettering Science Academy and Corby Technical School.
Students were tested on their knowledge of twenty books from four different categories, which included, 'Books at War', 'Bursting with Pride', 'Greg Grows Up' and 'Five a Day'. They also had to take part in physical challenges to earn extra points for their teams which included eating slices of lemon, basketball spinning, an Oreo biscuit challenge and performing a pirouette.
Non Pratt, the author of the acclaimed 'Unboxed', 'Trouble' and 'Remix' books was also at the event and spoke about her books answering questions posed by the students about life as an author. Year 7 students Eliza Donnelly, Eliza Markova, Andreea Ungureanu and Daisy Ahearn won a prize for the best team name with 'Sweet Chocolates' and were dressed as characters from the Chocolate Box series of books by Cathy Cassidy.
Librarian Ms Wendy McCabe said 'The Big Book Quiz was a great opportunity for the students to discover and read books across a variety of genres that they might not have chosen themselves. The event itself was great fun, the students were a credit to the school and are already looking forward to next year's quiz.'