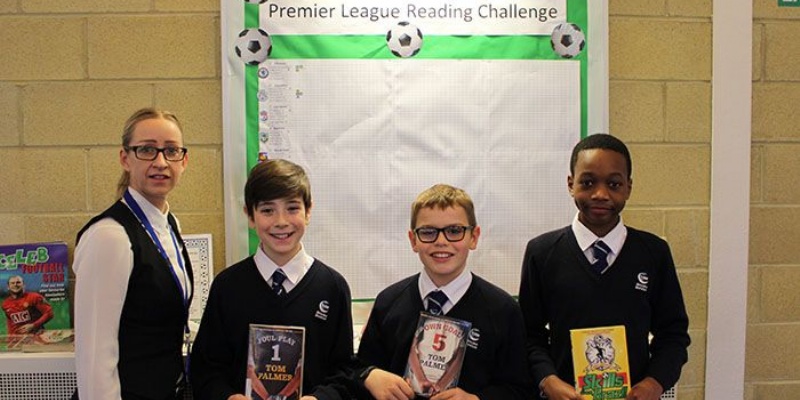 This week saw the launch of the Year 7 boys' premier league reading challenge. Introduced by Librarian Wendy McCabe, the students split themselves into teams of five, with each team representing a football team in the premier league.
Every student needs to read as many books as possible before the end of season. Each book equates to a goal and the more goals scored the higher up the league table the team goes. A review sheet about the book has to be completed before a goal is awarded, with stickers given for the goal and put on display on the league table in the library.
The top four teams every month then get to play a five a side football match to score extra goals. A live draw took place in assembly this week to decide the teams, which created a real sense of excitement amongst the students.
Ms McCabe introduced this scheme at her last school and it was so successful she wanted to bring it to the Year 7 boys at Brooke Weston. She said 'The boys always seem to be reluctant readers, they don't realise that it's not just about reading big fiction books. That's what they perceive as reading but it's not. For this competition they can read any type of fiction or non-fiction book, as long as they can write a review at the end. Nowadays there are so many distractions with technology and computer games, this gets them to remember that books exist and helps to promote a love of reading. Even if there are only a handful of boys that find this at the end of competition then I have achieved my goal.'
There will be weekly updates on the screens throughout the school to remind the teams how they are doing and create competitiveness. One Year 7 student said 'I think the reading challenge is good because it will get more boys into reading and it's a good opportunity to compete in something in school.'
The reading challenge will mirror the premier league and run until the end of May, when there will be a presentation with a trophy for the winning team and top goal scorer along with medals and prizes.
There are still a few spaces for teams to enter the challenge, so if any more Year 7 boys want to take part they should speak to Ms McCabe.