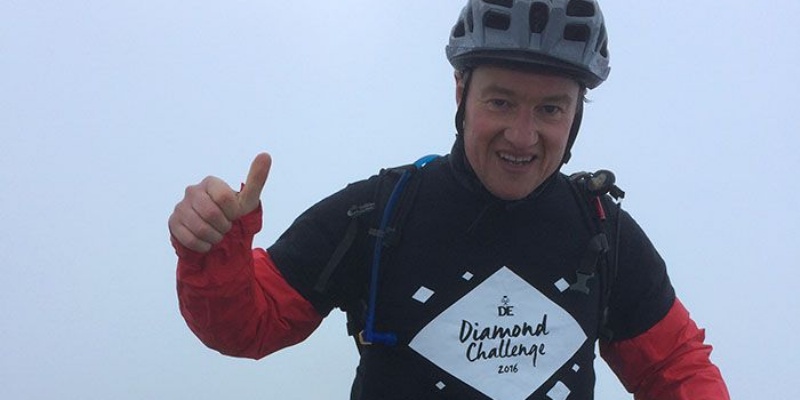 In celebration of the Duke of Edinburgh Scheme's Diamond Anniversary DT technician Mr Darren Hooper has recently completed a 12 hour mountain bike race plus a separate cycling expedition up Mount Snowdon to raise funds for local D of E projects.
Mr Hooper completed the gruelling 12 hours of mountain biking around Minley Manor in Reading, only stopping for one or two minutes every lap, and later went on to bike to the top of Mount Snowdon, raising £150. He said 'I didn't get the chance to do D of E when I was at school. So when I heard about the Diamond D of E challenge I knew it was something I wanted to do. I love challenging myself and pushing the boundaries of my comfort zone.
He trained by commuting from Market Harborough to work and is part of a local cycling club.
'I felt very tired when I completed the challenges but at the same time I got a rush of energy from achieving them. Like any challenge you do, it's horrible whilst you are doing it, but you feel great for days afterwards. It's nice to be able to share my experience with the students and be able to push them when they are struggling as I can relate to how they are feeling.'
The Duke of Edinburgh scheme is the world's leading youth achievement award, giving millions of 14-24 year olds the opportunity to be the very best they can be. It broadens horizons, skills and friendships and is a fun and rewarding journey where they can grow in confidence and become more independent.
D of E has just launched for Year 9 students at Brooke Weston. They will work towards three sections; skills, physical and volunteering and complete two expeditions of two days each. The Sixth Formers doing the scheme under the IEC programme are completing their Silver award.
Mr Hooper said 'The importance of D of E is that it gets people outside their comfort zones and helps them accomplish things they might not usually achieve. It opens doors to education and employment opportunities and shows self-motivation. The school runs the expeditions for the students but the other 75 per cent of the scheme they have to do in their own time, which is why employers and universities like this. It shows good character. '
For anyone interested in the Duke of Edinburgh scheme please contact Mr Hooper to find out more information.