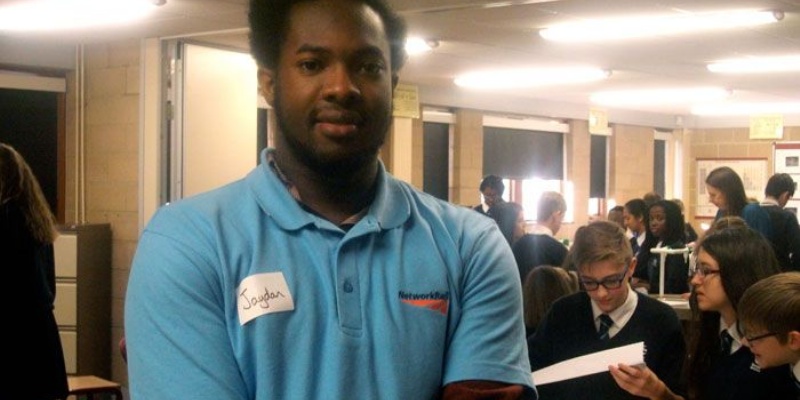 Year 9 students took on practical challenges including building bridges out of paper and level crossings from Lego during a STEM (science, technology, engineering and maths) day run as part of Tomorrow's Engineers Week.
This is a nationwide initiative where companies from across the country visit schools to set challenges and practical activities. Network Rail led STEM days at ten schools across the region and students from each will visit their headquarters in Milton Keynes later this month for more challenges, including a programming session on level crossing control.
Jaydan Manyan from Network Rail said: 'The challenges gave them an insight into what engineers do. The first challenge was bridge building exercise using dowel and paper. The dowel was only 60cm and the gap was 80cm so the real challenge today was how they bridged the gap. Later students built a level crossing out of Lego complete with motors and moving barriers. They were asked to be as creative as possible.'
Students Ilia Roberts, Olly Kelly and Antonia Swaden built the winning bridge design that was strong enough to support 3,100g. Ilia said: 'I think we came first because we used both masking tape and a lot of paper to make it very strong! The Lego challenge was really fun. Our level crossing took about an hour and a half to make and we could control the gates using motors.'
Afterwards Mr Mangyan said: 'We had some really creative options and a lot of the mechanisms we had today worked really well. The designs we had today were some of the best we had all week because we wanted to teach them that, working as an engineer you have not only got to work as part of a team but you have to design and plan beforehand. The students have been responsive and worked well. What they have actually been doing today is engineering, they might have had a fun day but everything they have done is what we have to do as engineers.'
Four students, Imogen Lincoln, Matthew Brown, Tate Eppy and Amelia Sulch along with Miss Reynolds will visit Network Rail for an experience day on the 25th November when they will tour the headquarters, have presentations from three different engineers and try out railway signalling on a miniature model railway.