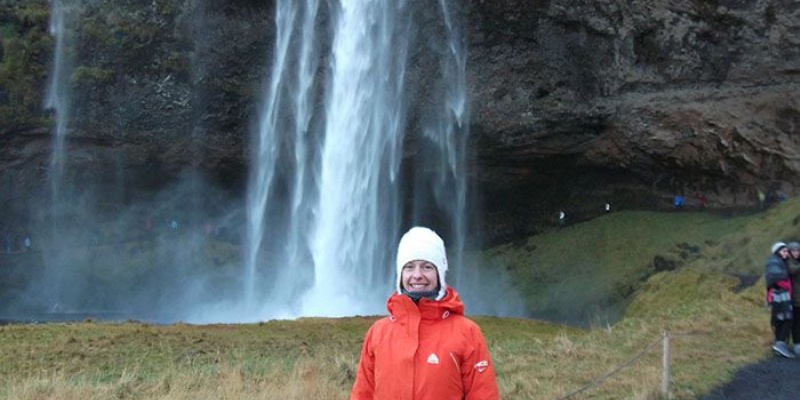 As part of a national initiative to increase awareness of STEM careers, science teacher, Ms Reynolds, recently took part in a trip to Iceland.
Organised by the National Science Learning Centre, 15 teachers nationwide applied to go to Iceland to learn about its diverse landscapes and provide their students with varying contexts when teaching.
During the trip they took part in a 185-mile golden circle tour, when they experienced waterfalls, lava fields, volcanoes and geysers, where the power of the water and steam erupting from the ground due to the extreme heat is incredible.
The group also saw the Northern Lights, a spectacular phenomenon caused by the interaction of particles from the sun with the upper atmosphere to create bright 'dancing' lights,
Iceland is positioned on the mid Atlantic ridge, so they have access to large amounts of geo thermal power. One of the highlights of the trip for Ms Reynolds, was a visit to a geo thermally heated tomato greenhouse that attracts 100,000 visitors a year. They buy bees in from other countries and have a timer for sunlight, as in winter the hours of sunlight are very few. It's heated naturally from the springs and bore holes.
Ms Reynolds has already brought some of what she has learnt during her trip into her science lessons, when she taught resistance to students and demonstrated how energy is lost in the length of the wire. She said 'Iceland has so much cheap energy they want to sell it to countries like the UK that don't have their own source of renewable energy and are looking at how they can send it across the sea to Scotland, which will obviously require a very long cable. I'm happy that I can already use the context of what I have learnt in Iceland directly in my classroom.
'My plan is to use my experience to set a STEM challenge by looking at bridge structure and engineering. One of the challenges experienced in Iceland is that the ground on each side is slightly different so during an earthquake it reacts in varying ways. I want the students to come up with an engineering solution to provide a context for a STEM challenge. I am very grateful for this opportunity and it will help bring my lessons to life. Eventually I hope to be able to pair up with geography department and take the students out to Iceland to experience this amazing country for themselves.'